Email Reports — Reviews
Reviews Report shows information about apps and countries you've previously added to your app collections. It includes:
the amount of new reviews,
changes in average user score,
differences between app versions.
Let's have a closer look using the example of Prisma (App Store):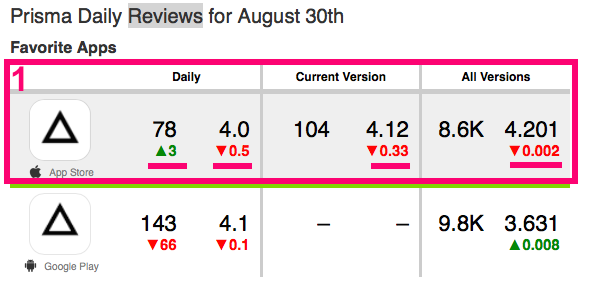 Highlighted box is placed on the top of the report, underlined numbers mean:
Daily (numbers for current date)/ Weekly (total week results):
78 🔼 3 — Daily amount of the received reviews is 78, which is 3 more than on previous day (week).
4.0 🔻0.5 — Current user rating* user score is 4 (users evaluate an app on a scale of 1-5 stars), which is 0.5 less than on previous day (week).
*There is a PRO feature for Premium users (only App Store apps). AppFollow collects customer evaluations — 'stars' without text comments. It allows adding to report the results just as it appears in App Store.
Current app version:
104 — Amount of reviews for current version of an app (The same amount is visible on app's page in App Store).
4.12 🔻0.33 — Average user score of the current app version is 4.12 (on a scale of 1-5 stars), which is 0.33 less than on previous day (week).
All versions:
8.6K — The amount of all reviews.*
4.201 🔻0.002 — Average user score of app including all versions is 4.201 (on a scale of 1-5 stars), which is 0.002 less than on previous day (week).
*All reviews for apps and countries you added in your app collection. Only users with PRO feature All Countries see reviews without limitations.
If you scroll down a little bit, you'll see the box with new reviews along with some other data on the top:
Full app name,
Platform — App Store, Google Play or Windows Store,
Thermometer — proportion between positive (green) and negative (red) reviews,
Stars — average score,
Reviews — amount of new reviews,
★1-5 — amount of reviews for each star.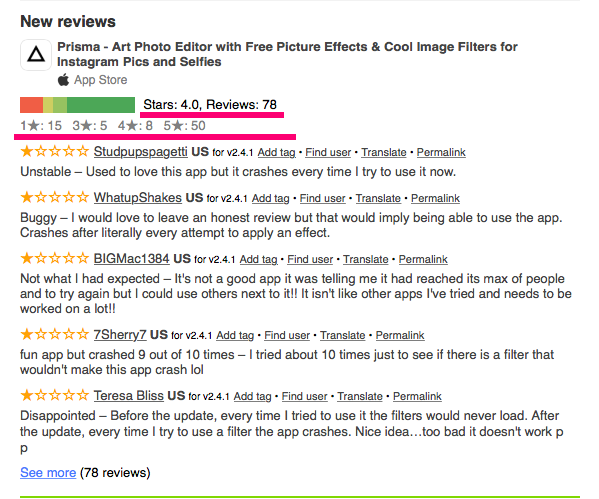 Each review (for App Store apps) has a top part showing the reviewer name, country, app version and additional features:
Add tag — tag the review in AppFollow,
Find user — opens user account on Google+ or Google Search,
Translate — shows the review translation via Google Translate,
Permalink — public link to this particular review for sharing on the web.

Clinking See more will redirect you to more detailed report on AppFollow. For more details check out the article User Reviews.
In addition to the mentioned features, user reviews have Reply button that allows to reply to user comments with a few clicks: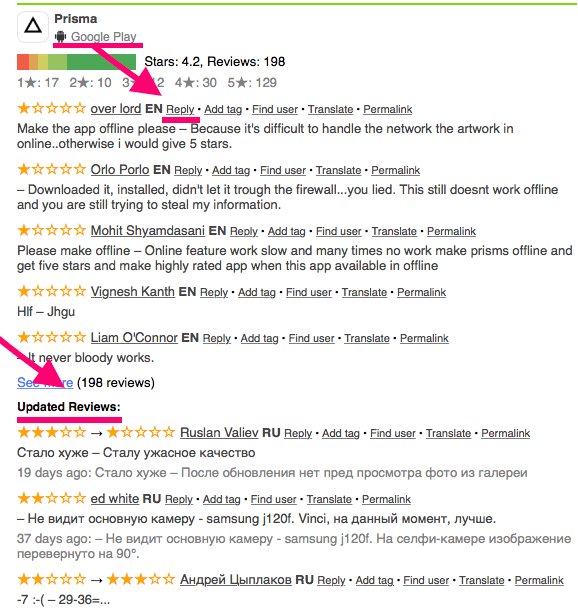 Moreover, there is a section called Updated Reviews for Google Play & App Store apps. It shows the reviews that have been updated by users within report time period (1 day or 1 week).
New Answers located below shows the reviews that got a reply from app developer:

By the way to speed up replying to reviews, invite your colleagues to access AppFollow account in the role of User. Read more about Multiple User Access to Account.
---
---