How to Add a User: Multiple User Access
All your team can use AppFollow to boost app store ASO optimization, reply to customer reviews and promote app in general. The owner can invite other team members with different access levels.
There are 4 user roles available:
Admin — full access to account management
User — access to app collections management without admission to financial info and Team Members Page
Support manager — ability to post replies at the Ratings&Reviews page, edit tags and templates. Only viewing access to the account data excluding billing page.
Read-only — only viewing access to the account data excluding billing page. This role doesn't allow to edit settings except adding tags and notes to user reviews.
Team members can either get full access to all your apps data on AppFollow, or only limited access to particular apps collections.
Please note, that restricted access to the billing page limits all other finance related information on the account. For example, team members will not be able to access Downloads&Revenue tool.
How to invite new users
Select "Team members" on the top menu
Choose "Invite a Member"
Enter email address, name and avatar (click on it to change if necessary), access level and app collections for this user to access
Click on "Send invite" — all is done!
If your invitation is pending too long, you can Re-send it.
How to invite an existing user to your team
If a user you want to invite to your team already has AppFollow account, we have two options:
If the user didn't add any apps and integrations, we will transfer their work email to your team with new empty account. The existing account will have a new email: name+MOVED@email...
If the user has added apps and other data, we will add them to your team with a new email: mail@example.com => mail+[client.id]@example.com
If you need our help, just write an email at help@appfollow.io or press an intercom button and start a chat.
How to limit access to collections
If you would like to limit access of a new user only to particular collection, select its name in the according field before sending the invite: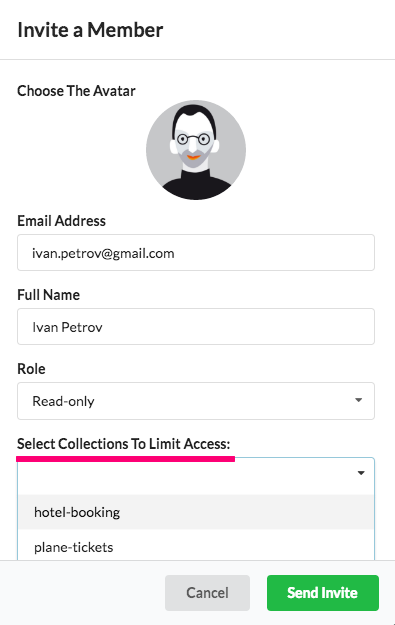 How to change the account owner
If it is required to change the owner of your AppFollow account, you need to do the following:
Login from the current owner account
Select a team member you need to set as a new owner
Click 'Edit this member'
Check the 'Owner' option
Click 'Save'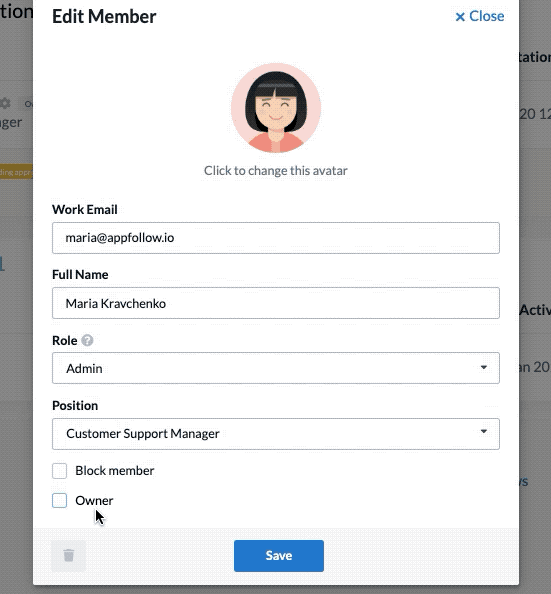 ---
---