API: Description, Methods & Examples
Access to AppFollow API is available for Free and Premium plans. 
For documentation go to https://watch.appfollow.io/api 
API Base URL: http://api.appfollow.io

Messages' format — JSON
Format requests — GET/POST
To get access to our API you need:
cid — client's ID
api_secret — clients secret key
You can get these parameters in your personal account settings: http://watch.appfollow.io/settings/general
All data requests to AppFollow should be signed. Signature is following after "sign" parameter.
How to create a signature
You already have all signatures you may need in your account.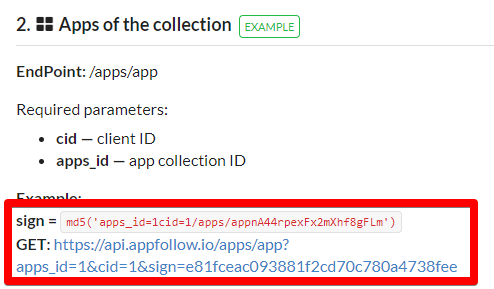 Use them or create your own one:
sign = md5(sorted request parameters in following format:parameter's name and parameter's meaning,API method (URI path, e.g.: /test),api_secret)
Signature example: sign = md5(cid=124ext_id=903655975/reviewsAppFollow-124-565cc38f8)
Handling Errors
In case there are any errors, server answer would be in JSON format, status 200 (except mistakes 502 и 504).
Error example: http://api.appfollow.io/sdsd
Methods
Here we gathered all ready-to-use methods you may need:
App collections list 
Apps of the collection 
Reviews 
Reviews summary
Review reply (required to reply to reviews)
Review tags update
Review Bug Trackers Update
Review Notes Update
Ratings
Versions (any changes including metadata)
What's New (new versions)
Rankings
Keywords
Keywords Edit
ASO Suggest
ASO Search
ASO Search Ads
ASO Trending
App Analytics
ASO Reports
Stat reviews
Stat reviews rating
Stat reviews by version
Stat reviews replies
Stat replies speed
Collection reviews
Review custom status (private beta)
We included request examples, you just need to copy them.
You will also find the response examples: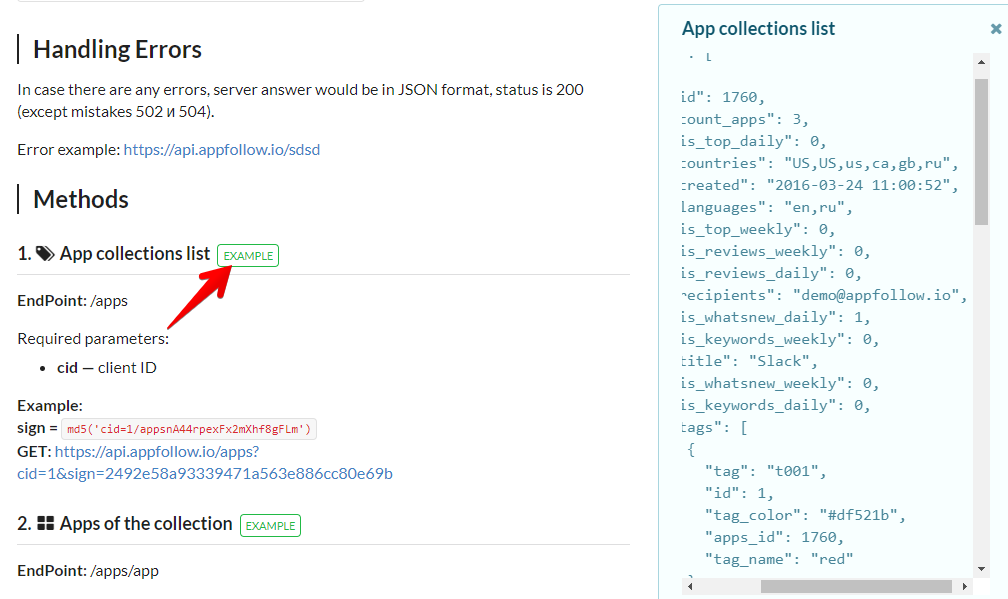 More documentation here: https://appfollow.docs.apiary.io/#reference/0/api-methods 
---
---