Keywords & ASO: analyze your and competitors' keywords performance
Improve your ASO marketing strategy using the AppFollow ASO tools. Track your app keywords performance or compare your progress with other apps in your collection.
Once you have some keywords added, you can track their effectiveness.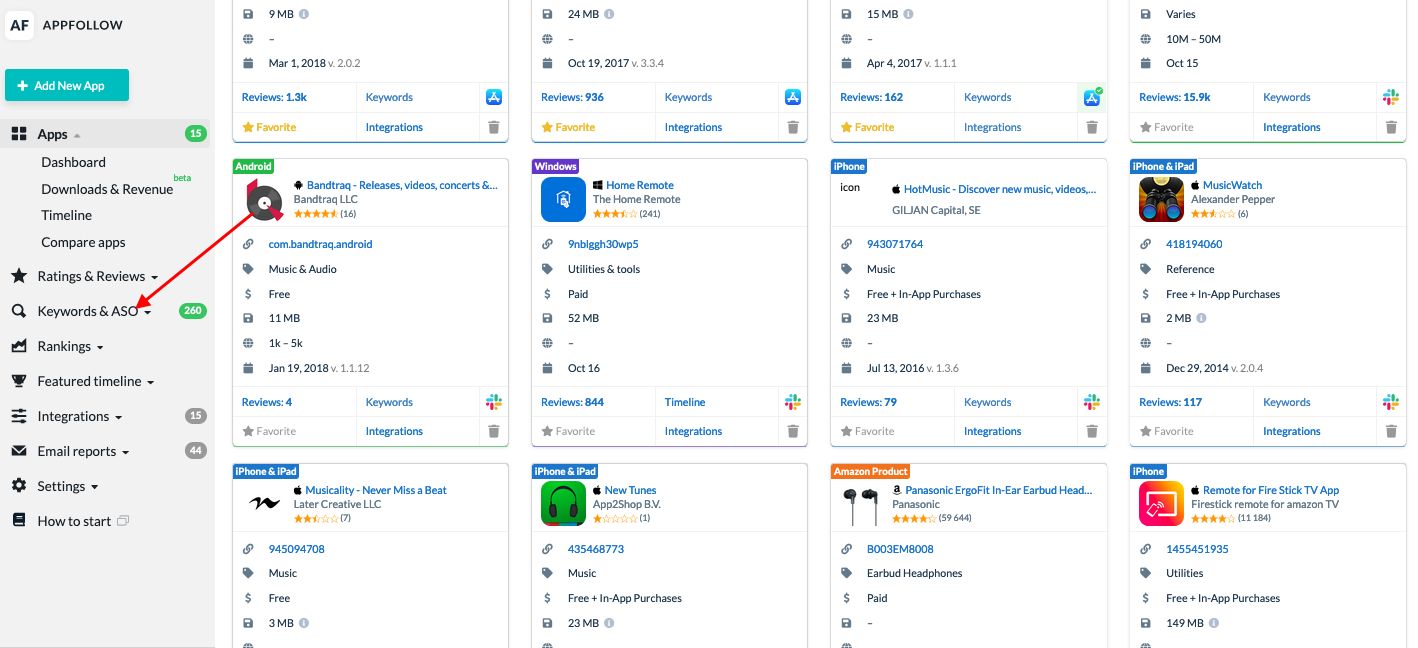 Keyword chart
1. Go to Keywords & ASO
2. Here's the chart with the keywords performance.
In our case, the LINE app had 3 keywords from the collection, that users used to find it. Hover the chart to see when and how those keywords ranked.
Keywords with traffic score from 10 to 20 could be the best option for the new apps, especially if there are under 50 apps in the search results. Do not use high traffic keywords (70+) for the new apps, because you won't be able to rank high in the search results and won't be able to get organic downloads. Much better to start with low traffic keywords, get downloads and high positions to gain App Store authority, and then, replace keywords with more popular.
Missing keywords
Collect the maximum number of relevant keywords that the app ranks for in the desired country, in just a couple of clicks. Keywords are grouped by popularity: from Top-1 to Top-100, you can immediately add the missing ones for tracking and to the new ASO iteration of text optimization.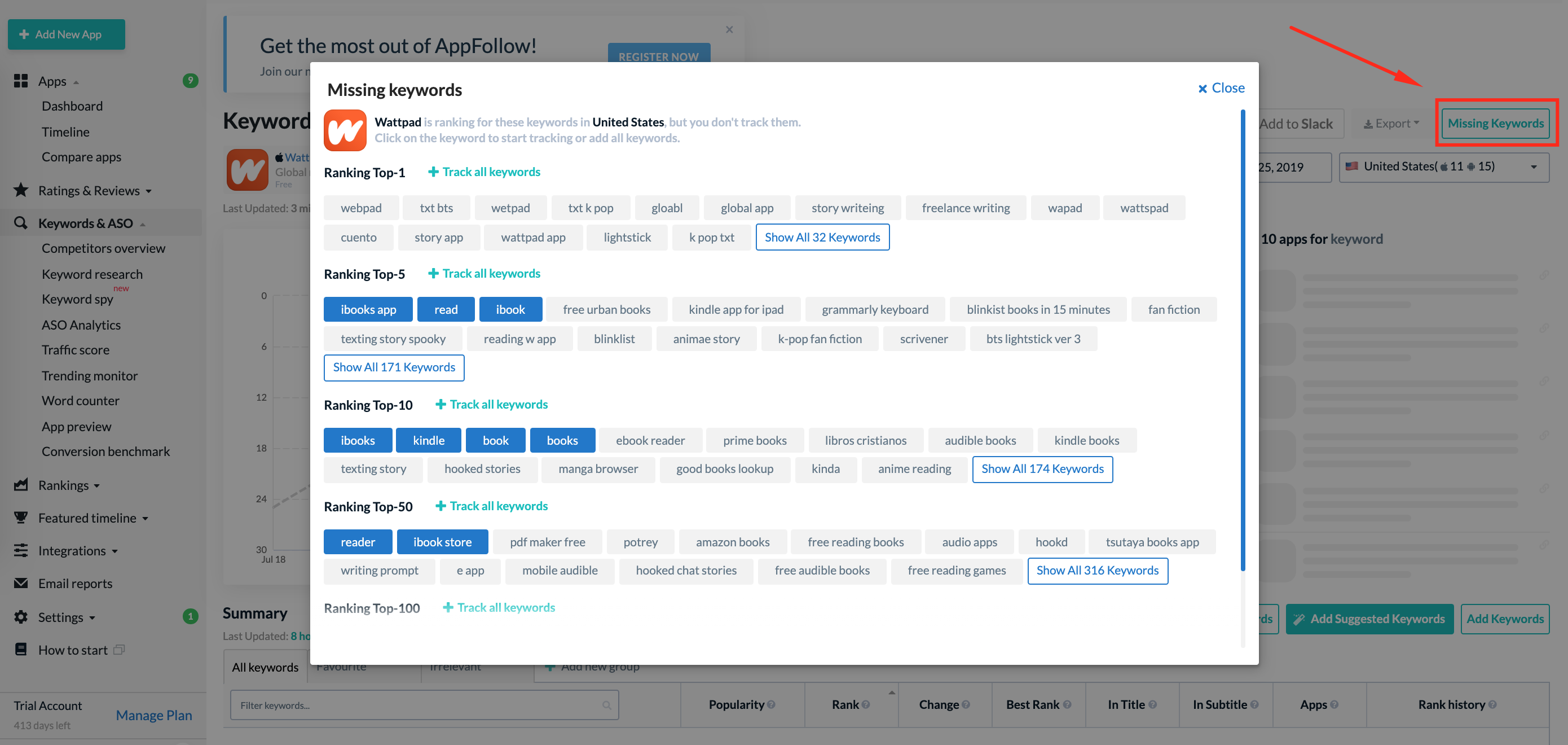 Keywords distribution

Check how visible your app is for users: what keywords is ranking in Top-1, Top-5, and Top-20. The more keywords are in the Top-10, the more people see your app while searching. Here the app doesn't have any Top-1 keywords. From the chart above we know that the keywords "cheap flights" and "flights" work good, but "airlines" performs in Top-50, so this keyword doesn't help the app to get new users.
Unknown section means that a keyword ranks below Top-100 for App Store or Top-50 for Google Play.
The same distribution can be displayed via chart with all the keywords and their positions: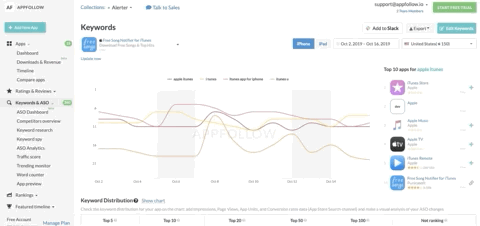 Add ASO Report, and you will be able to analyze the key metrics, like Impressions, Page views, App Units and Conversion rates for the App Store Search (iOS) & Google Play Organic (Android).
How to work with the chart:
1. Track how keywords from Top-1 or Top-5 affect Impressions and Page views.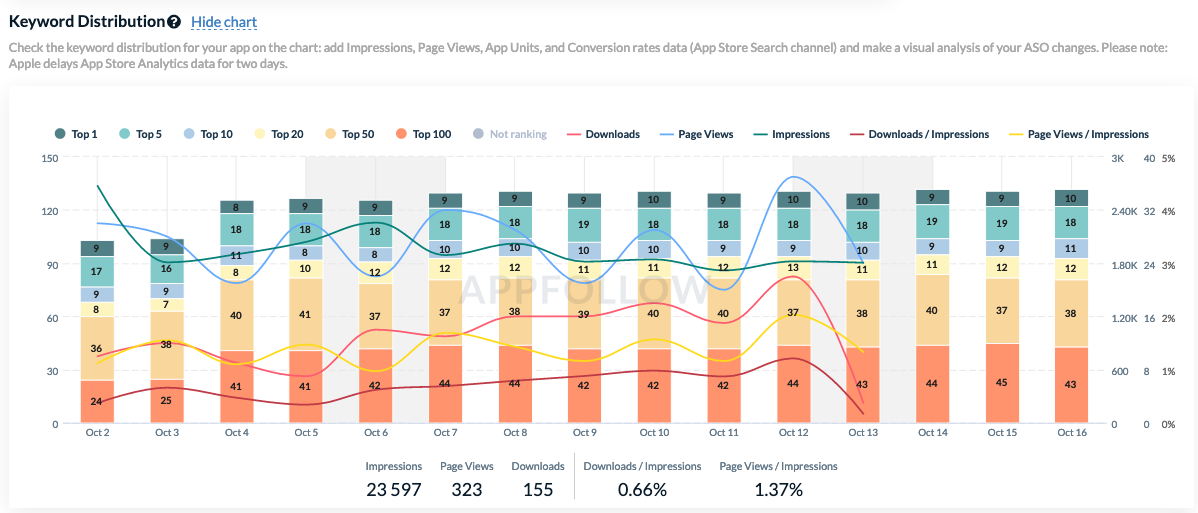 2. If Impressions (the orange line) grew up, but App Units (the red line) came down, it means that current keywords or some of them bring irrelevant traffic. You need to change them.
3. Hover over the white points to see how conversion rate changes daily (the lower 3 lines).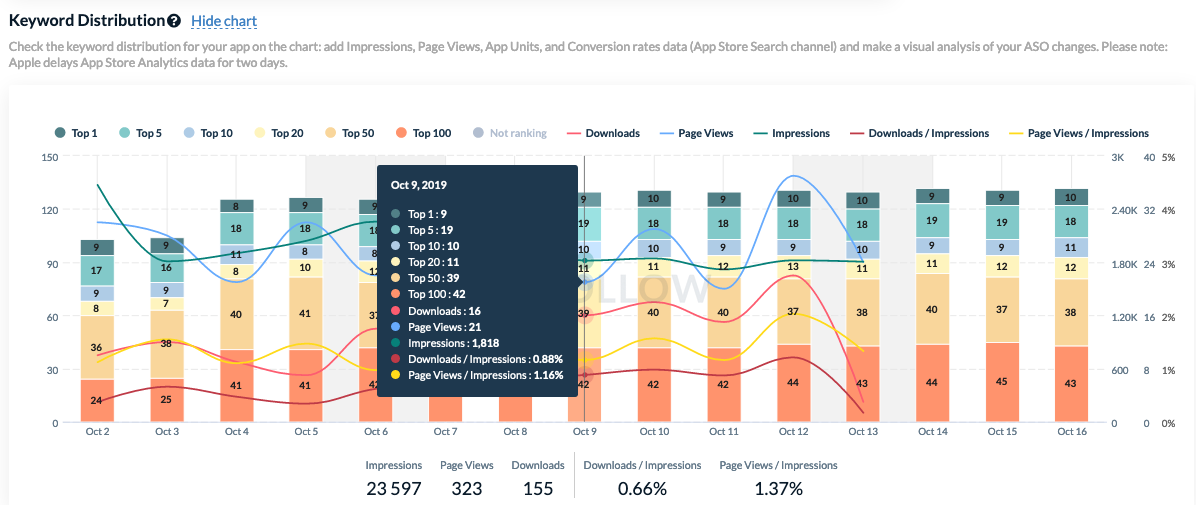 4. If you see a sudden spike in the chart, it can be getting your app or game featured, or seasonable changes. Using the chart you can measure the effect from being featured as well (the correlation between Impressions and App Units).
Summary
Summary displays all the keywords you have added, their daily positions and changes, best results, how many of them the app uses in the title and subtitle, and their quality score.
If the app doesn't uses a particular keyword you have added, you will see blanks.
The results will be different depending on the time period and the country. If you don't see any results, check whether you've added keywords for this country.
Popularity provides you traffic score from Google Play and Apple Store. We are using our internal mechanism to show you the real data, so if you see 0 or 5 for some keywords — you can be sure that there are just several people typing this keyword every day.
Export keywords analysis
Say, we need to analyze keywords monthly performance. To export this data, choose the time period (a week, a month, 3 days — whatever) and click "export":
You have a choice between CSV and Excel files.
In this example the report shows monthly changes, traffic score and the best rank during that time period.
Apart from that, you can analyze daily performance of all keywords in the same report.
Need help? Just hit the red Intercom button, we're here for you.
---
---