App Store Connect Integration: reply to reviews, ASO and sales reports
Integration with App Store Connect (ex-iTunes Connect) allows you to reply to positive and negative reviews, and helps you improve your app visibility and get more downloads
Connect App Store Connect with AppFollow to get all app data:
Real-time app updates;
Get and reply to reviews;
Get ASO and sales reports.
How to set up
Depending on the type of integration, check roles and permissions in your App Store Connect account.
Reply to Reviews (reply to reviews and edit responses): Admin or Customer Support roles.
ASO Report (access to analytics ): Admin or Marketer + Reports roles.
Sales Report (access to sales data): Admin or Sales + Reports + Marketer roles.
If you want to set up several integrations: Admin or Customer Support + Marketer + Finance roles (Sales and Report will be marked automatically).
Open main app page (iOS) and click Integrations;
Click "Add new integration";
Choose App Store Connect (ex-iTunes Connect) and enter the login data: Apple ID and Password.
Done!
Please note, that you have 20 replies per month for free. If you need more, contact our support team.
What's next?
Now when checking Reviews, you will see a box for reply: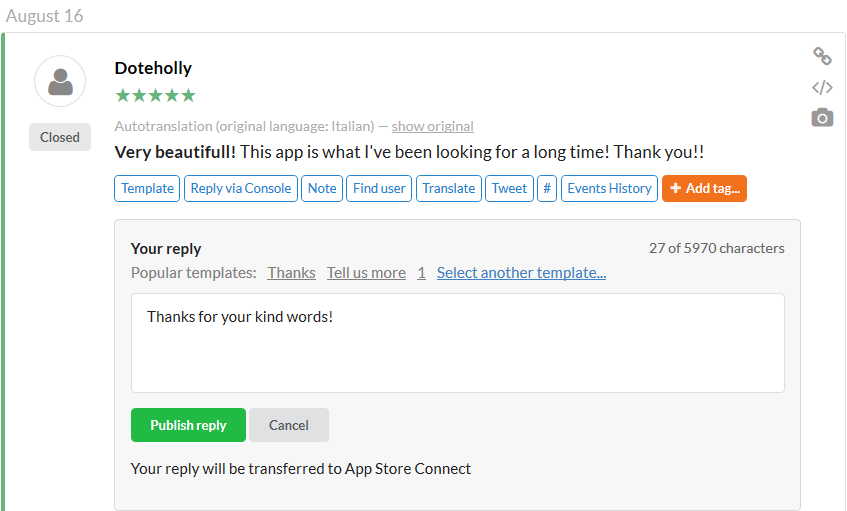 2. Receive and reply to reviews from Slack
4. Check your app and ASO performance with ASO report
5. Monitor your app performance with Slack Sales Report and get updates right to your Slack channel!
My integration doesn't work
Sometimes App Store Connect (ex-iTunes Connect) has a bug with creating new accounts or editing existing ones. Wait a little and try again;
Apps that you have access to in App Store Connect (ex-iTunes Connect) are not the same ones that you'd like to integrate with AppFollow;
Your account is protected by two-factor authorization. Please, create a new account with a Customer Support role or/and Marketer and Sales roles;
Your role doesn't have the permission. If you try to reply to reviews, please check if you have a Customer Support role.
Need help? Hit the red intercom button to chat with our support team.
---
---