Keyword popularity: what is it and how to apply it
Keyword optimization is a crucial step in ASO. Thorough research, analysis and careful selection of the best keywords is required in order to bring relevant traffic for your app. Popularity is a relative indicator that allows clearly and quickly compare keywords and identify the best ones for your app.
How do we calculate popularity?
For iOS apps. We receive the data for any country derectly from Apple without any modification from our side. If you feel like your popularity score is not that precise (needs to be lower/higher) you can address this question to the support team of Apple. We recommend to consider keywords with the popularity >20.
Apple Search ads score and our Popularity score are deemed to be the same values.
For Android apps. We calculate the score based on more than 15 different params, including recognition of the input language and detection of search hints relevance. Taking this into account we can say that we have one of the most precise score on the market.
If you see, that our score differs from the score of any other 3d party service, you can check with the support of the service, what could cause the discrepancy.
How does Popularity work?
Popularity score of 0 means that the keyword is exceptionally seldom, on the contrary 100 will be shown for keywords with a huge number of requests daily. We don't recommend to use keywords with popularity less than 20.
To understand how keywords with different popularity scores relate to each other it is important to know that:
Popularity score is a relative metric
There is no data on the particular number of search requests for a keyword with a popularity score, for example, of 20. App Store and Google Play don't disclose exact numbers of search requests for a particular keyword and the number of search requests is not available.
The ration between scores is not linear
Popularity grows exponentially, on the graph the popularity score could be illustrated as a curve that continually becomes steeper: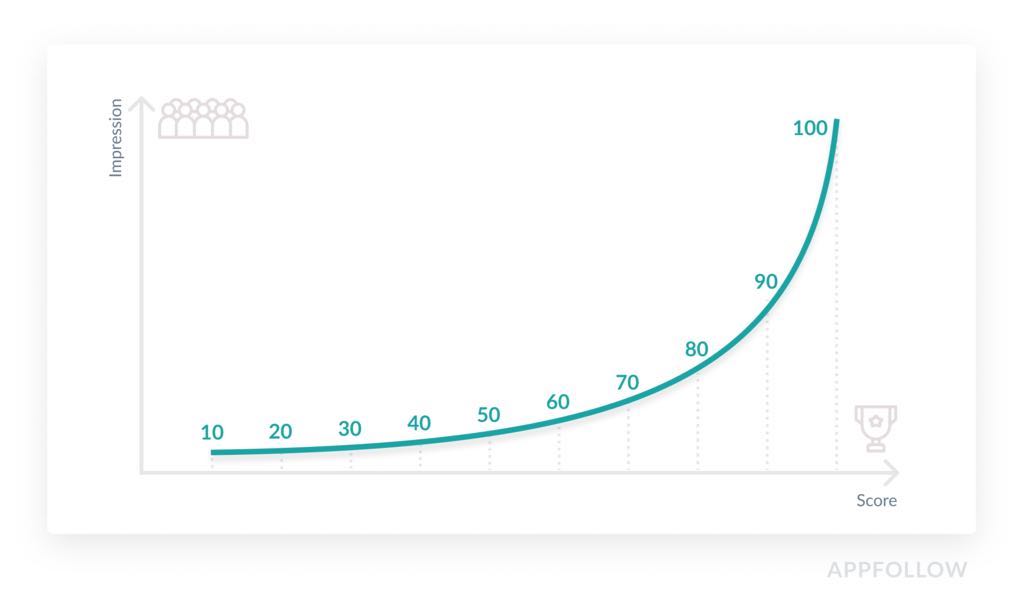 The total traffic for a keyword with a popularity score of 50 and a keyword with a score of 25 is not necessarily 2 times bigger.
The popularity score of 90 could be several times more than 80 while the difference between the scores of 30 and 20 is much less.
The general rule is the higher the score the more popular the keyword.
Popularity score should be considered in combination with the number of apps on the Keywords & ASO page
The less apps using a keyword with high popularity, the more chances for this keyword to get higher rank.

Popularity score is a reference point
Using a keyword with a popularity of 100 doesn't guarantee the app will get into the top apps chart.
Keywords should be compared to each other as having a higher or lower popularity score. To find out the exact impact of a highly popular keyword on the traffic changes, you need to study the result of ASO campaign for your app. Results will vary for different apps, countries, categories and all total set of factors.
What keywords to choose?
To resume the above, when choosing keywords for your app, keep in mind following rules:
- the more popularity score of the keyword, the better
- try to pick keywords with higher popularity, while the less number of apps in search
What's next?
Learn about AppFollow tools to create semantic core for your app here.
---
---