Single Sign-on (SSO): team access with extra security level
AppFollow Single Sign-on helps your team work from the same account and operate the same app data. All your efforts here lead to promote your mobile app across the app stores.
SSO allows the team members to use their credentials from one service, like their Google work email, to access another one without additional registration.
You need Single Sign-On if:
You have a big team and want to be sure, that everyone quickly accesses the same data. All new members will be added to the same account, use the same apps and collections, and you don't need to invite newcomers manually;
You look to minimize risks for access to 3rd-party sites, if your team members use insecure passwords or password sharing services;
You need to speed up the team work. With SSO they don't waste time logging in, recovering passwords, etc.
We support:
SAML 2.0
G Suite (Google)
Onelogin
OKTA (soon)
More services are coming soon.
How to set up
This time you can only switch on SSO by means of our customer success team.
Admin access:
1. Go to Account > Settings > SSO;
2. Fill out the form with three parameters:
Entity ID
SAML SSO URL
Public Certificate
3. Click "Save".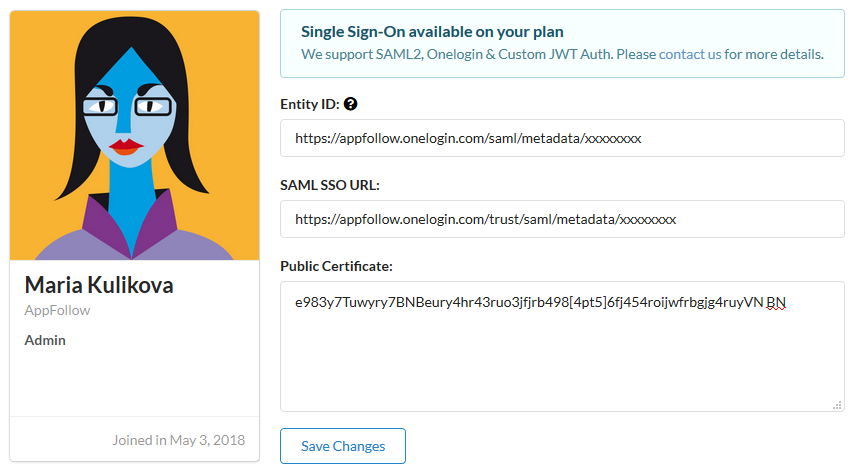 If you don't know where to get these three parameters, please contact your system administrator or ask our customer service for help.
Now every email address with the Admin domain will have the access. For example, if you registered name@appfollow.io email, all emails xxx@appfollow.io will be able to enter your AppFollow account.
User access:
When entering https://watch.appfollow.io/login use your email to access your team account:
Need SSO? Just hit the red Intercom button — we're here for you.
---
---