Monitor Amazon reviews, questions and ratings data in AppFollow
If you promote apps, games, or sell product on Amazon, it's crucial to have control over their reputation. You can collect all customers' feedback and analyze it in your AppFollow account.
Amazon apps, games, and product rating
You'll see rating data on the Ratings chart page and all the reviews and questions will be stored on the Ratings & Reviews page. You can export all the data from AppFollow by clicking on the "Export" button in the top right corner of a page or using our API.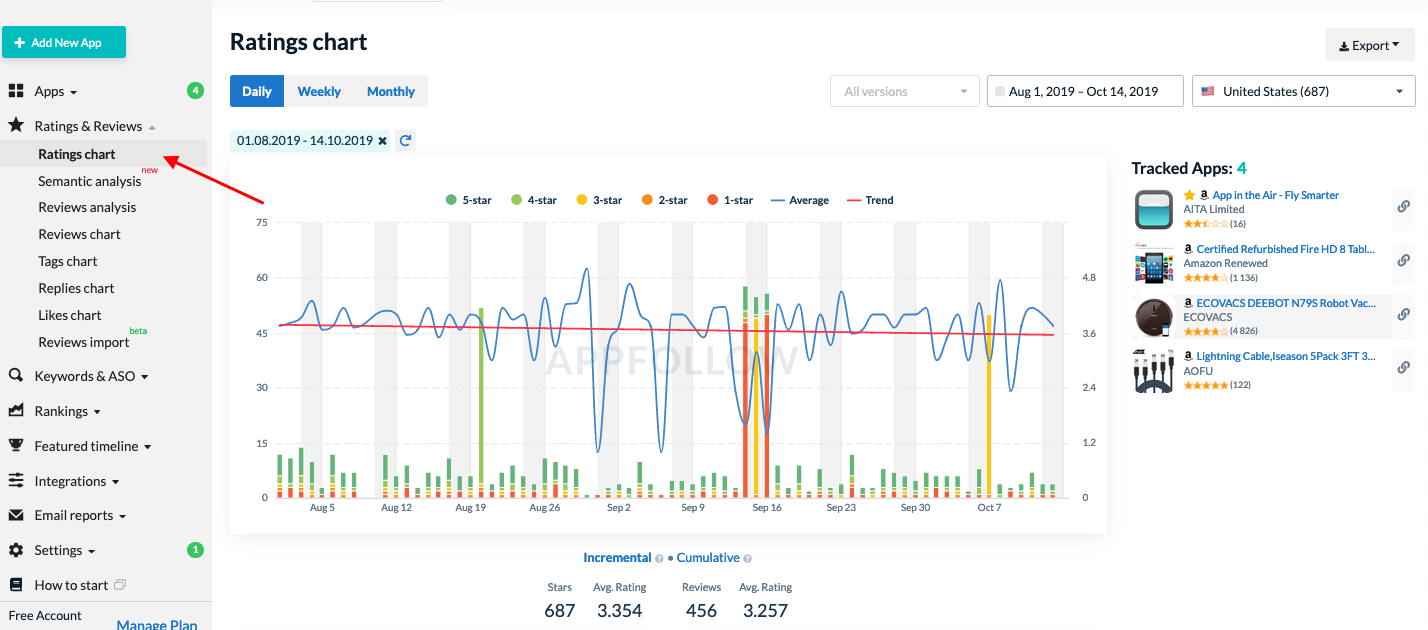 Amazon calculates a product's star ratings based on a machine learning model instead of a raw data average. The model takes into account factors including the age of a rating, whether the ratings are from verified purchasers, and factors that establish reviewer trustworthiness.
We get the rating from the application page by calculating % by stars from the total number of ratings. We compare 2 days and calculate the difference to show incremental ratings.
Amazon reviews and questions
The delay in showing of the Amazon comments, replies and questions in AppFollow is measured in minutes from the moment the comments become visible in Amazon. On the Amazon's side, the moderation period can last up to a day.
Any user can comment on the original question/review of the Amazon product, which is different from the app stores set up. The current logic in AppFollow is that we show only the 1st review posted for the product, but this set-up will be re-evaluated by our dev team and could be updated.
See the list of Amazon reviews separately from Amazon questions in the AppFollow interface, choose Filter by Reviews on the Ratings & Reviews page and choose Amazon Review. It'll be useful for manufacturers, vendors, and developers to filter the data to see only reviews.
If you're a seller and want to monitor questions separately from reviews, please choose Filter by Reviews on the Ratings & Reviews page and choose Amazon Question.
Amazon questions don't have ratings (stars) in AppFollow since the Amazon interface doesn't ask ratings for the questions from the Q&A section.
You can easily find reviews having specific words, that became worse or better and so on. Please read the article to explore more filters on the Ratings&Reviews page.
If you'd like to have reviews translated, click Translation to select the language.
Reviews auto-translation is our Premium feature. Contact our support team or your account manager for more details.
Should you need any further information, hit the beacon in the bottom right corner to contact our support team.