Keywords & ASO: analyze your and competitors' keywords performance
Keywords & ASO tool opens up new opportunities for keyword research and optimization. You can easily create a set of relevant keywords, monitor app ranking of your apps and competitors and analyze keywords on one page.
To start tracking keywords you can add them manually here:

Or, you can use a bunch of our automated features for searching new keyword options.
Keyword research
AppFollow automates keyword research routine and provides sets of ready-to-use keywords.
Ranked Keyword tab shows all keywords that your app is ranking for right now. It is a great opportunity to find out what you are missing. Click on a keyword to start tracking it or use the Track All Keywords button to create a semantic core with all your current keywords.
In this tab, keywords are divided into Tops. Ranking Top-1 section displays those keywords that will show your app on the first position in store search; Ranking Top-5: keywords showing your app between the 2nd and the 5th position in search; Ranking Top-10: your app is ranking between the 5th and the 10th position; Top-50: an app will rank between the 10th and the 50th position in store search results for these keywords.
All keywords here have the Popularity score attached. The bigger the score, the more popular it is among store users.

Competitor Keywords tab will show keywords your competitors are ranking and getting traffic for:
The Apple Recommendations tab displays the origin data from the App Store. These are the keywords that Apple considers relevant for your app. Checking competitors will give you a great set of first-hand keywords. This tab allows you to check how the App Store sees your app. If the keywords in the list are correctly describing your app functionality it means that the ASO job is done well and your app will rank for more relevant keywords.
Best Visibility offers data on impressions distribution between all ranked keywords for your or competitors' app. You can check which keywords bring the most impressions to your app, and, as a result, make your app more visible in store search.

Keyword Research provides real-time data on the App Store and Google Play coverage for any country. You can check any keyword and get real-time search results for it. On the left, you'll see store suggestions.
Create groups to organize your keywords, e.g. competitors keywords or divide keywords by type, niche and separate keywords for a new release. It will allow you to track updates of a specific group of keywords without having to search for them manually.

Rank History
Rank History chart visualizes your and your competitors' app ranking and its progress over time. Just select a keyword from the Keyword Ranking section below, and you will see a line showing how app position have been changing for a selected keyword. Note that you should specify a country and a time span using the filters above. Your app rank will be different depending on the country you choose.
Top 10 apps on the right duplicates store search results for the keyword you have selected in the Keyword Rankings page. You will see first 10 apps that rank for this keyword on App Store or Google Play store.
Keyword Rankings
Keyword ranking displays all the keywords you have added, their daily positions and changes, best results, how many of them the app uses in the title and subtitle, and their popularity/difficulty score.
If the app doesn't uses a particular keyword you have added, you will see blanks.
The results will be different depending on the time period and the country. If you don't see any results, check whether you've added keywords for this country.
Popularity provides you traffic score from Google Play and Apple Store. We are using our internal mechanism to show you the real data, so if you see 0 or 5 for some keywords — you can be sure that there are very few people typing this keyword every day. The maximum score is 100.
Turn the Hide Unpopular toggle to remove keywords with low popularity score.

Difficulty shows how hard it would be to outrank your competitors on App Store or Google Play Top-10 with the specified search terms and phrases. The higher the difficulty, the less suitable it is for your text optimization. The maximum difficulty score is 100.
Rank is app's position for a keyword.
Change demonstrates the difference in ranking for the time span you set in the date filter.
Best Rank is the highest position of an app for a given keyword.
Name shows if a keyword is used in the app name.
Subtitle tells if a keyword is used in a subtitle on an app's store page.
Apps give the total number of apps that rank for a keyword.
Rank history is a mini-chart that visualizes apps rank history for a keyword.
You can do keyword research and optimization for foreign countries as well: turn the Translation toggle to have keywords in any language translated into English.

Alerts and export
AppFollow provides options to create Slack and Email alerts and get daily, weekly, and monthly updates with keyword positions directly in your Slack channel or email inbox. Also, you can export all the data in Excel/CSV format or use our API to create your own charts and dashboards.
You can also export keyword information from the Keywords&ASO page into .excel and .csv formats. In this example the report shows monthly changes, traffic score and the best rank during that time period: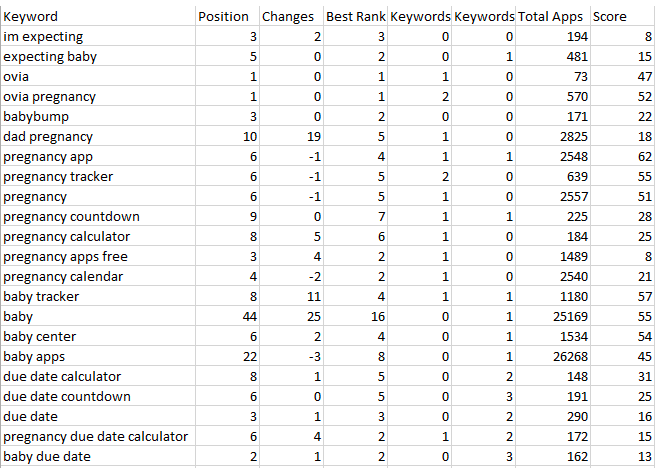 Would you like to find out more about our Keywords&ASO tool? Feel free to send an email to help@appfollow.io or hit a chat button in the bottom right corner.