AppFollow API: Description, Methods & Examples
API from AppFollow helps you reply to reviews, follow keywords changes and ranking, and track apps' updates no matter what tools you use. The API has the ready-made methods to quickly access all data. Wherever you are, you have everything you need to grow your mobile app and get more customers.
Settings
Documentation: https://watch.appfollow.io/api
Apiary: https://appfollow.docs.apiary.io/#reference/0/api-methods
API Base URL: https://api.appfollow.io
Messages' format: JSON
Requests' format: GET/POST
Instruction on how to access data using POSTMAN is below.
Access to AppFollow API
1. Go to your personal account settings and get:
cid — client's ID
api_secret — client's secret key
2. Choose an API method, create a request (optional: add additional parameters).
3. Add a signature to your request after "sign" parameter.
You already have all signatures you may need in your account. Use them or create your own (instructions below).
4. You're done now!
How to create a signature
Signature consists of 3 parts:
Parameters (Name=Value): required and additional;
Note: sort parameters by Name (A-Z);
Example: apps_id=, cid=, date_from= etc.;
Example: /ratings;
Signature examples:
sign = md5(cid=124ext_id=903655975/ratingsYOUR_API_SECRET)
sign = md5(apps_id=1111cid=124/ratingsYOUR_API_SECRET)
Request example:
https://api.appfollow.io/ratings?cid=966&ext_id=618783545&sign=2dd47bc7a0328cf61ace906f433c3541
API request to-do list:
SDK
Methods
Here we gathered all ready-to-use methods you may need:
In the Documentation we've included request examples, you just need to copy them.
You will also find the response examples: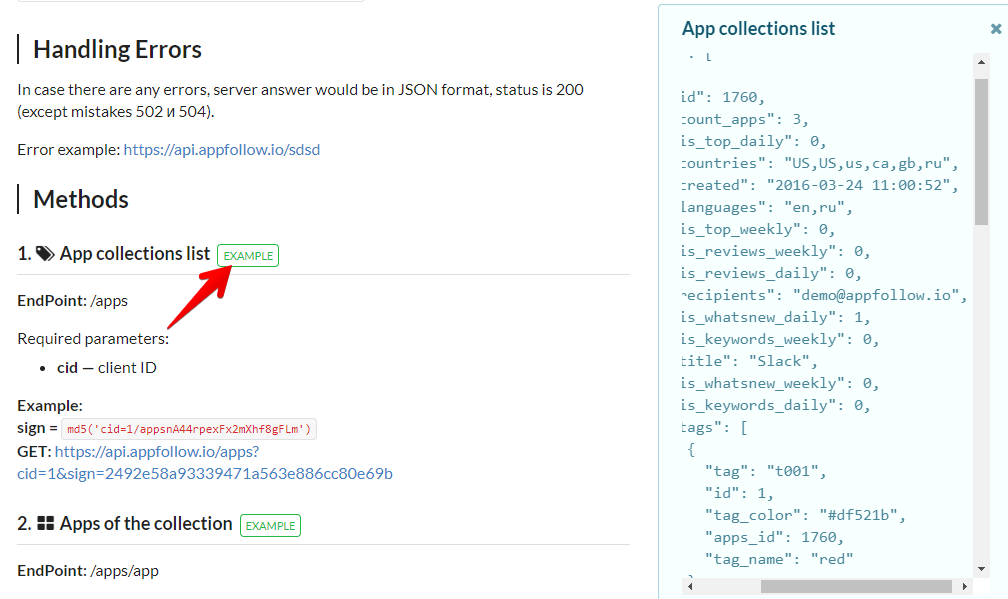 Additional parameters:
Country(iOS)/Language(Android)
Handling Errors
In case there are any errors, server answer would be in JSON format, status 200 (except mistakes 502 и 504).
Error example: https://api.appfollow.io/sdsd
Postman
You can download pre-configured postman collection and import it to Postman. Or you can configure collection on your own:
1. Create Postman collection or open collection settings in already created Postman collection.Open Pre-request Scripts tab and paste this script there.
var sdk = require('postman-collection');<br>CID = pm.variables.get("CID");<br>SECRET_KEY = pm.variables.get("SECRET_KEY");<br>var query = {};<br>pm.request.url.query.all().each(function(param){<br>    if(!param.disabled) {<br>        query
   <param.key>
     = param.value;
    <br>    }
    <br>});
    <br>query.cid = CID;
    <br>delete query.sign;
    <br>const sorted = {};
    <br>const arrayKeys = [];
    <br>Object.keys(query).forEach(key => {
    <br>if (Object.prototype.hasOwnProperty.call(query, key)) {
    <br>arrayKeys.push(key);
    <br>}
    <br>});
    <br>arrayKeys.sort();
    <br>arrayKeys.forEach(key => {
    <br>sorted[key] = query[key];
    <br>});
    <br>let signString = '';
    <br>Object.keys(sorted).forEach(attr => {
    <br>signString += `${attr}=${sorted[attr]}`;
    <br>});
    <br>url = new sdk.Url(request.url);
    <br>url.path.forEach(part => {
    <br>    signString += `/${part}`;
    <br>});
    <br>signString += SECRET_KEY;
    <br>sign = CryptoJS.MD5(signString).toString();
    <br>pm.variables.set("sign", sign)
   </param.key>