AppFollow API: Description, Methods & Examples
API from AppFollow helps you reply to reviews, follow keywords changes and ranking, and track apps' updates no matter what tools you use. The API has the ready-made methods to quickly access all data. Wherever you are, you have everything you need to grow your mobile app and get more customers.
Settings
Documentation: https://appfollow.docs.apiary.io/
API Base URL: https://api.appfollow.io
Messages' format: JSON
Requests' format: GET/POST
Instruction on how to access data using POSTMAN is below.
Access to AppFollow API
1. Go to your personal account settings and get:
api_secret — client's secret key
2. Choose an API method, create a request (optional: add additional parameters).
3. Add a signature to your request after "sign" parameter.
4. You're done now!
Postman
To use Postman API Client:
1. Create a Postman request without the 'sign' parameter.
The cid parameter can be found in your account settings.
For example, for method #1. App collections list the request should look like this: https://api.appfollow.io/apps?cid=******
2. Go to the tab 'Authorization' and select the type 'Basic Auth'.
3. Enter the api_secret into the 'Username' field (the api_secret should be copied from the account settings).
4. Click 'Send' to process the request and receive a response from the server.
5. Configure all needed endpoints in the same way. The cid and api_secret parameters of request should be exactly like in your account settings. Otherwise, your request will be rejected by the server.
Other access methods (creating a signature)
Signature consists of 3 parts:
Parameters (Name=Value): required and additional;
Note: sort parameters by Name (A-Z);
Example: apps_id=, cid=, date_from= etc.;
Example: /ratings;
Signature examples:
sign = md5(cid=124ext_id=903655975/ratingsYOUR_API_SECRET)
sign = md5(apps_id=1111cid=124/ratingsYOUR_API_SECRET)
Request example:
https://api.appfollow.io/ratings?cid=966&ext_id=618783545&sign=2dd47bc7a0328cf61ace906f433c3541
API request to-do list:
Methods
Here we gathered all ready-to-use methods you may need:
In the Documentation we've included request examples, you just need to copy them.
You will also find the response examples: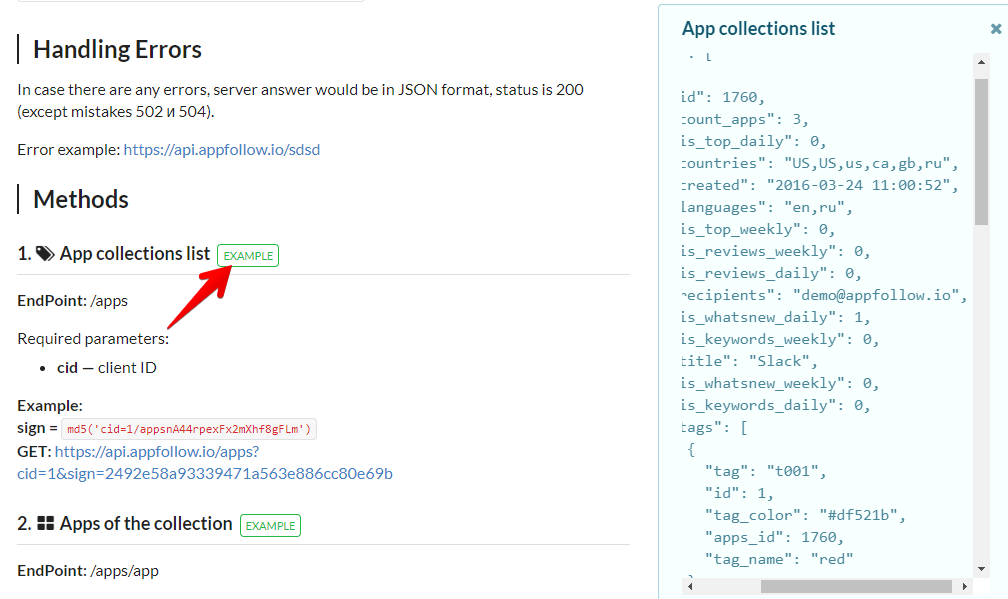 Additional parameters:

Country(iOS)/Language(Android)
SDK
Handling Errors
In case there are any errors, server answer would be in JSON format, status 200 (except mistakes 502 и 504).
Error example: https://api.appfollow.io/sdsd