Slack integration: monitor app activity and reply to reviews
Integration with Slack gives you a clue about what's going on with your app or mobile game. Monitor customer feedback, reply to negative and positive reviews, and track any app changes to boost your app downloads.
Track app activities using Slack. We support:
App Store;
Google Play;
Microsoft Store;
Amazon Appstore;
Mac App Store.
---
Set up a Native Slack Integration
1. Go to Integrations List page and select Slack, click on "+Add New Integration".
2. Choose what types of notifications you want to get:
Reviews Updates;
Timeline;
Featured breakdown;
Ranks history;
Keyword history;
Search Ads;
Smart Alerts (machine learning algorithms will check users mood and notify you if something happened - coming soon).
If you want to receive several alerts, add them separately.
3. Click "Add to Slack" to start receiving any of the notifications from the previous step.
You will be redirected to the Slack page, where you need to type your Slack workspace.
Type the workspace's name and click "Continue":

Enter your email and password from the workspace and click "Sign in".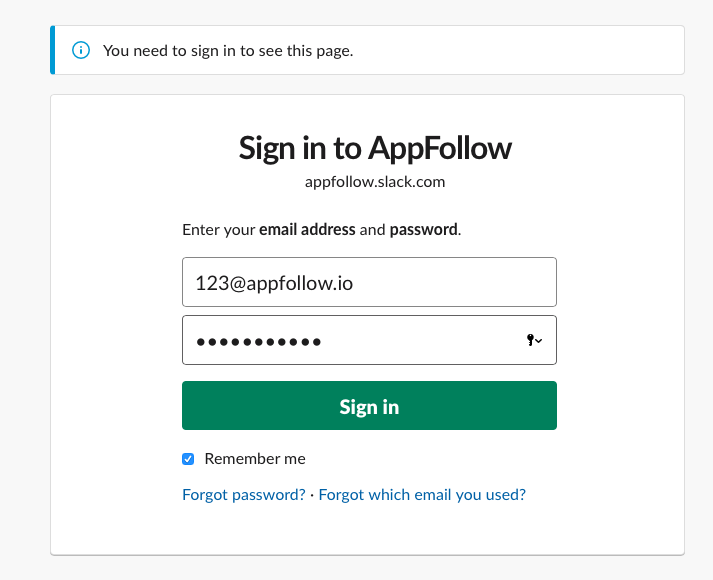 4. Choose a Slack channel where you will get the selected notifications.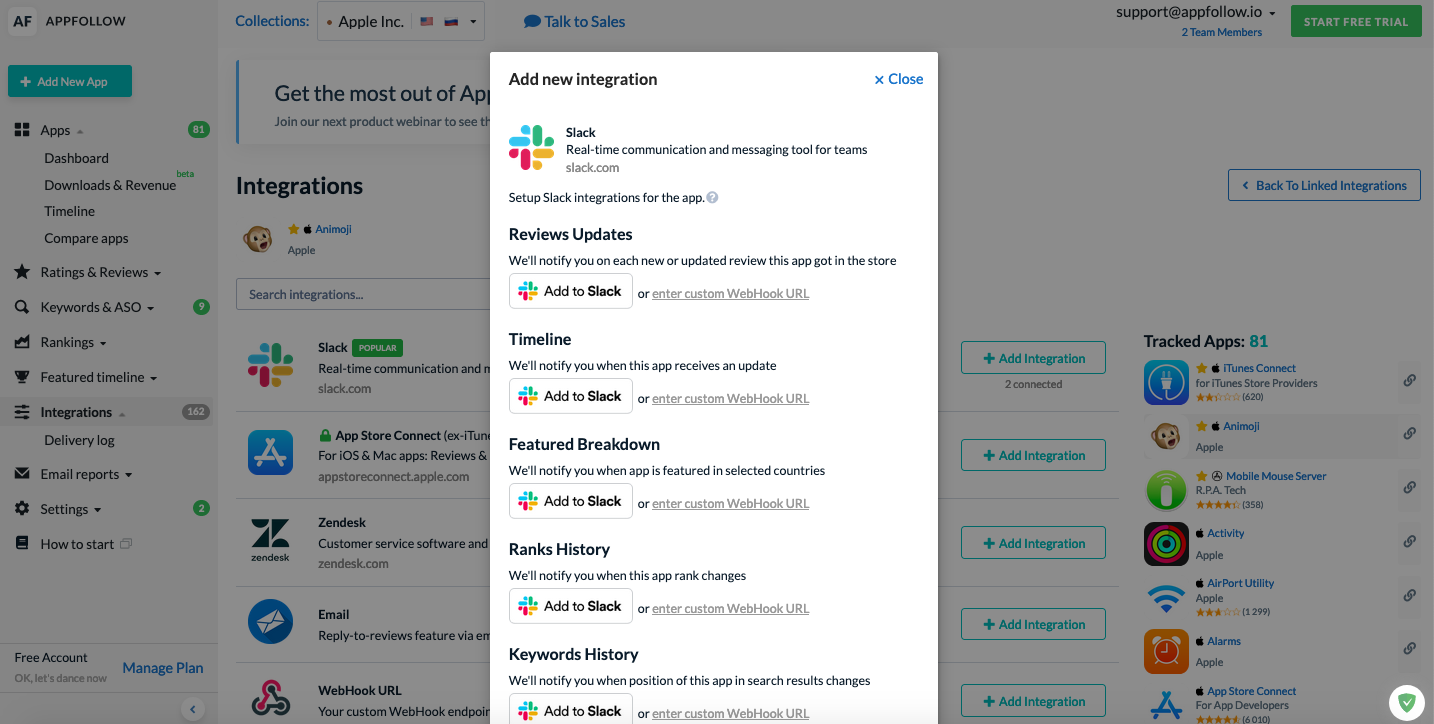 Click the drop-down menu "Select channel".
Here you can choose any existing channel or create a new one specifically for alerts and notifications.
Click "Authorize".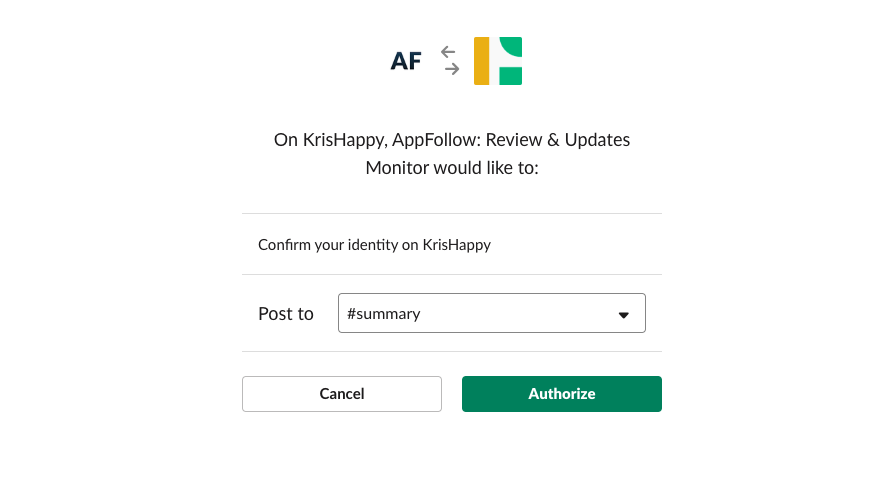 You can create as many Slack channels, as you need. You may have several channels for different alerts and teams: product owner will get app updates, and customer support team — new reviews.
---
Set up a Webhook Integration
Instead of setting up an integration via the native AppFollow Slack app, you can choose to create an integration with a custom Webhook URL.
To create an Incoming Webhook integration:

Open the settings of the Slack channel where you want to add the integration.
Click "More" to open the menu and select "Add apps".


Select "Incoming Webhook".
Click "Install".
Configure the settings in Slack and copy the new Webhook URL.
Open the Integrations List in AppFollow.
Click "Add integration" on the Slack card.
Choose "Enter custom Webhook URL" next to the integration you want to enable and paste the Webhook.
Done! You have created an Incoming Webhook integration.
---
Adjust Notifications to Your Needs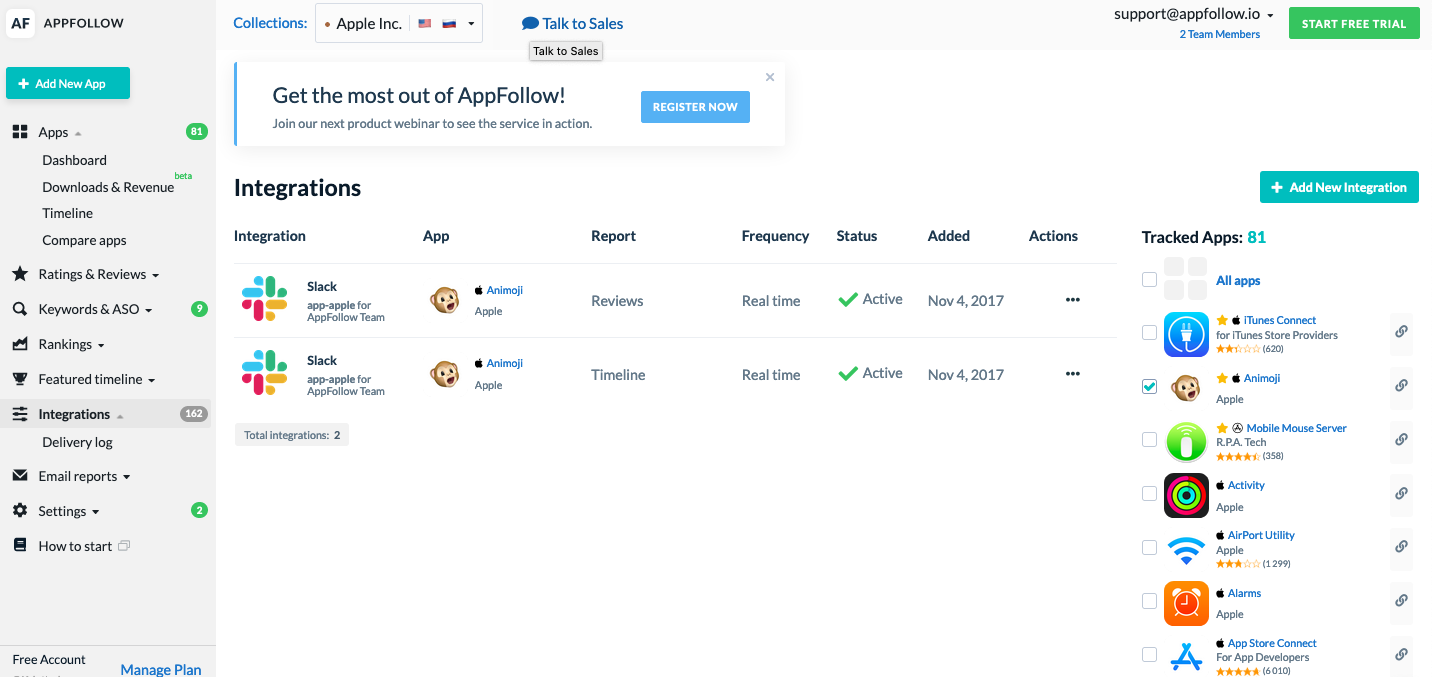 Instant alerts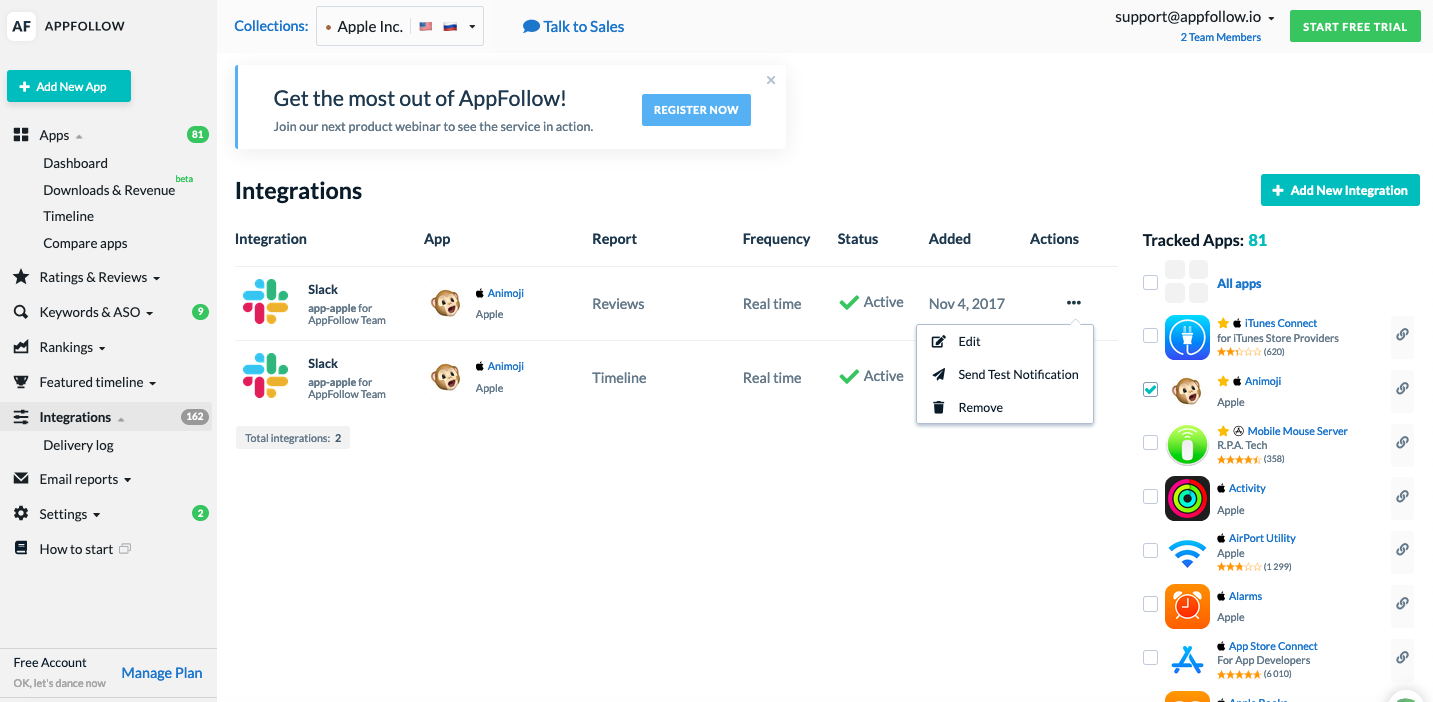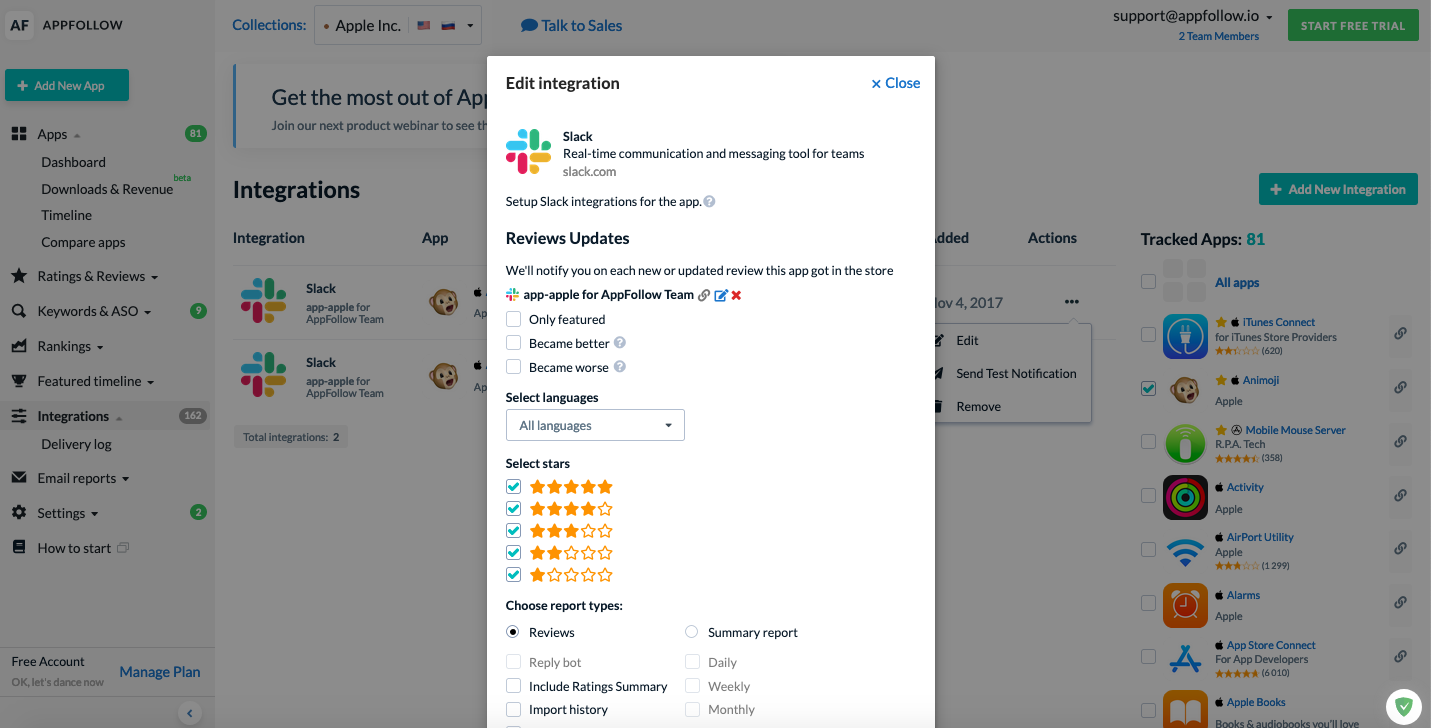 Alerts about App Changes
Reviews Summary;
Reviews Updates Summary;
Reviews;
Keyword History;
Ranks History;
Search Ads;
Smart Alerts (coming soon).
You can change your integrations' settings:
If you want to get all reviews, or only good or bad ones;
Only featured;
How often to be notified: real-time, once a day, a week or a month;
Languages;
Frequency of Summary reports: daily, weekly, monthly, etc.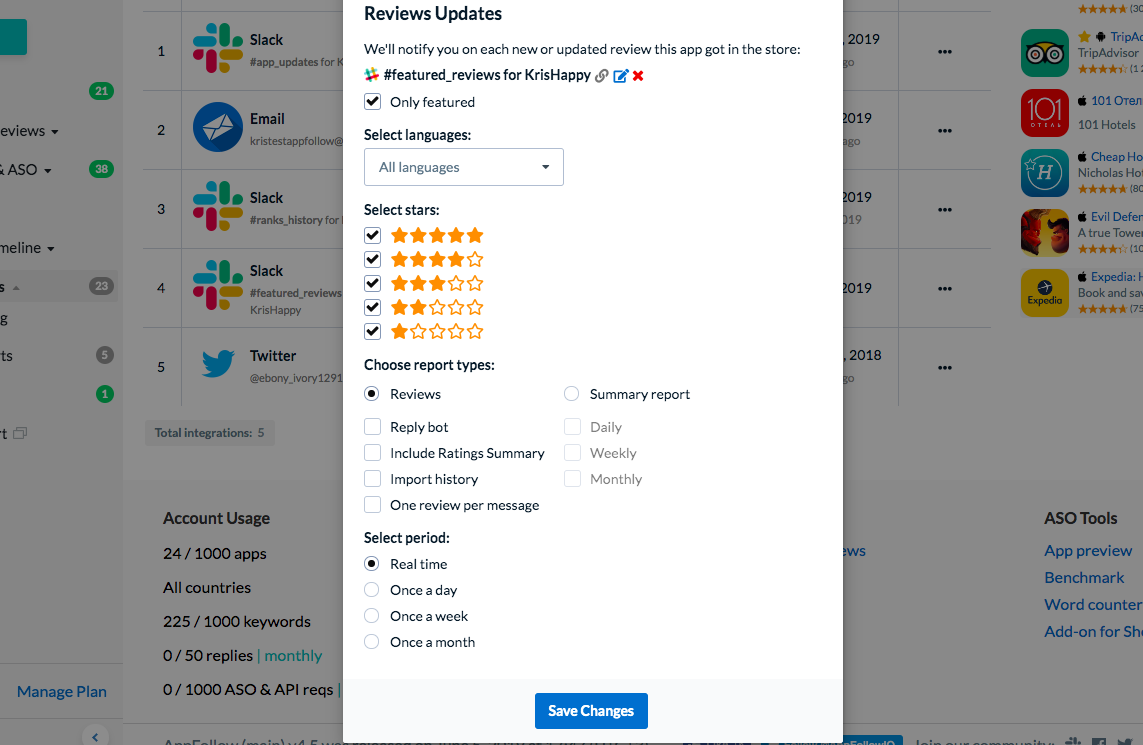 Alerts about Getting Featured
You can set up the alert to find out when your app or competitors get featured on the Today, Apps, and Games tabs, or mentioned in the featured collection.
To do so, choose Featured breakdown option. You will then receive an alert each time your app appeared in a featured tab or collection. All mentions from the Today tab will come the day before it happens.

Here is how how your alerts will look like in Slack:

As soon as your app has changes, a Slack alert will let you know.
Looking to reply to a review right from Slack?
Get our Slack bot
and reply in two clicks!
---
Troubleshooting
1. You can get the same notifications twice. It may happen if you have added the same notification type two or more times. Delete unnecessary integrations: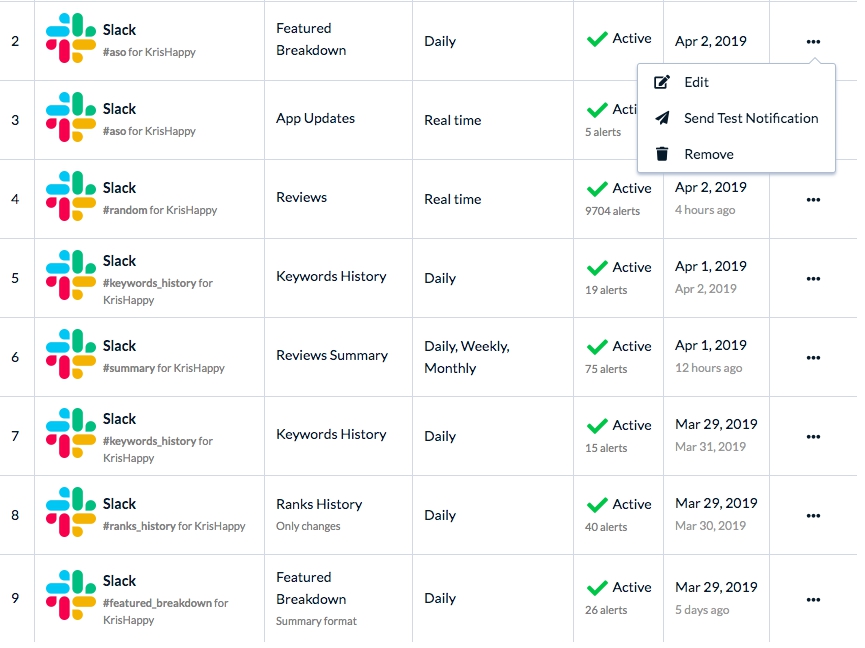 2. You receive daily sales report only the next day. Sometimes it takes more time from Google to collect this data. That's why it may be delay with delivering sales report the same day.
---
Need help? Just hit the Support Beacon— we're here for you.