Slack Integration: Apple Search Ads
Apple Search Ads Integration with AppFollow allows you to get all data about your app to improve your advertising results. Get this data into your Slack or Discord chat to boost your marketing campaigns and get more app users.
Set up
1. Go to the Integration tab on the left menu and click "Add New Integration";
2. Choose Search Ads and click "Add Integration";
3. Here you will need to add Key file and Pem file. To find them go to https://searchads.apple.com/ -> Sign in -> Advanced;
4. Open your account Settings in the right upper corner -> API tab, or use the direct link: https://app.searchads.apple.com/cm/app/settings/apicertificates;
5. Check that API certification has not expired. Click Admin -> Actions -> Download certificate;
6. The archive with both files will be downloaded to your device;
7. Unzip the folder and see the set of keys.
8. Add Admin.key and Admin.pem from Search Ads into required fields and hit "Add Integration".
Once the Search Ads is connected, it is possible to set the Slack report to receive daily, weekly or monthly reports.
To set up the Search Ads - Slack report:
Open the Integrations page and select an app;
Click "Add New Integration" -> Slack;
Select the Search Ads and click "Add to Slack" button;
Select the channel in Slack to receive the alerts and set how often do you want alerts to be sent (daily, weekly or monthly).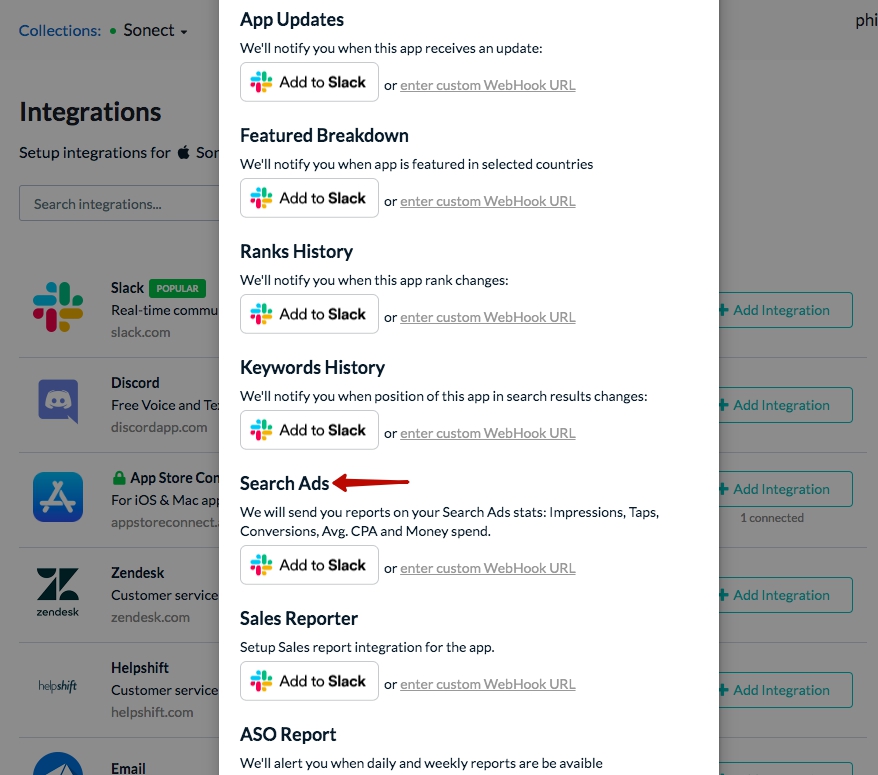 The reports will be delivered to the selected Slack channel:
Need help? Just hit the beacon — we're here for you.