How to reply to app reviews from AppFollow dashboard
IN THIS ARTICLE
How to use filters, tags, and reply templates in AppFollow.
Use AppFollow dashboard to:
get and track app reviews;
get them auto-translated to grasp all your apps' geography;
sort them to simply update your replies and analyze users' issues faster;
reply to them to increase users loyalty and app rating;
report a concern.
Get app reviews
All reviews from apps in a collection (both yours and competitors' ones) will be place in the Reviews section (the red arrow).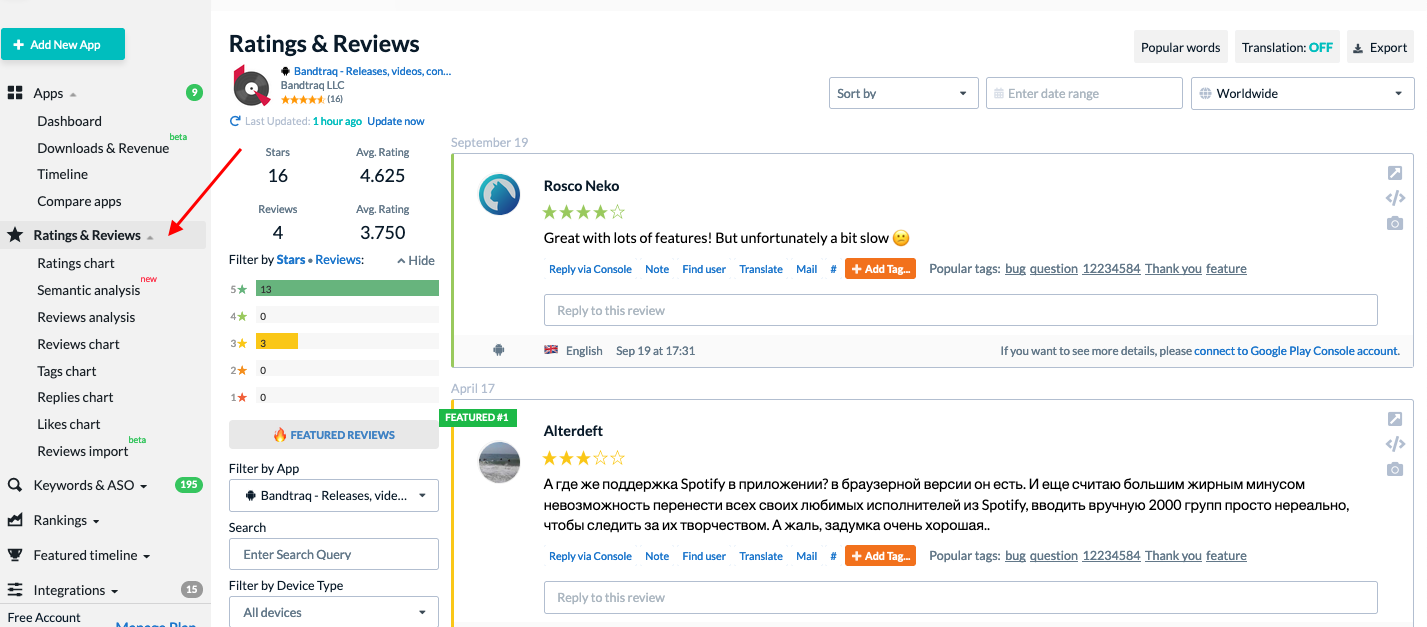 The Reviews section is updating in real time for Premium accounts and once a day for Free ones.
Apart from a review itself, you will see the details about a user who sent it: an app store where the review came from, OS, country, date and time, app version, and device. This data will be displayed underneath the review and the reply box:

We will be able to show this data only after you have connected AppFollow with
App Store Connect
and
Google Play Console
. Without access we will show only app store, country, date and time, and app version.
If you want to be notified about new reviews as soon as you get them, we recommend setting up one of AppFollow integrations:
Translate reviews
Auto-translation allows you to get all reviews in your language to understand your users faster. This way you will be able to cover user feedback worldwide.
Auto-translation applies to the entire app collection, not to a particular app.
To turn on the auto-translation mode:
Click TRANSLATION: OFF on the upper right menu;
Enable the toggle button (it becomes blue when activates);
Choose the language for translation. All new reviews will come translated into this language;
Pick up apps which reviews you need to translate. Here you can choose several;
Click "Save".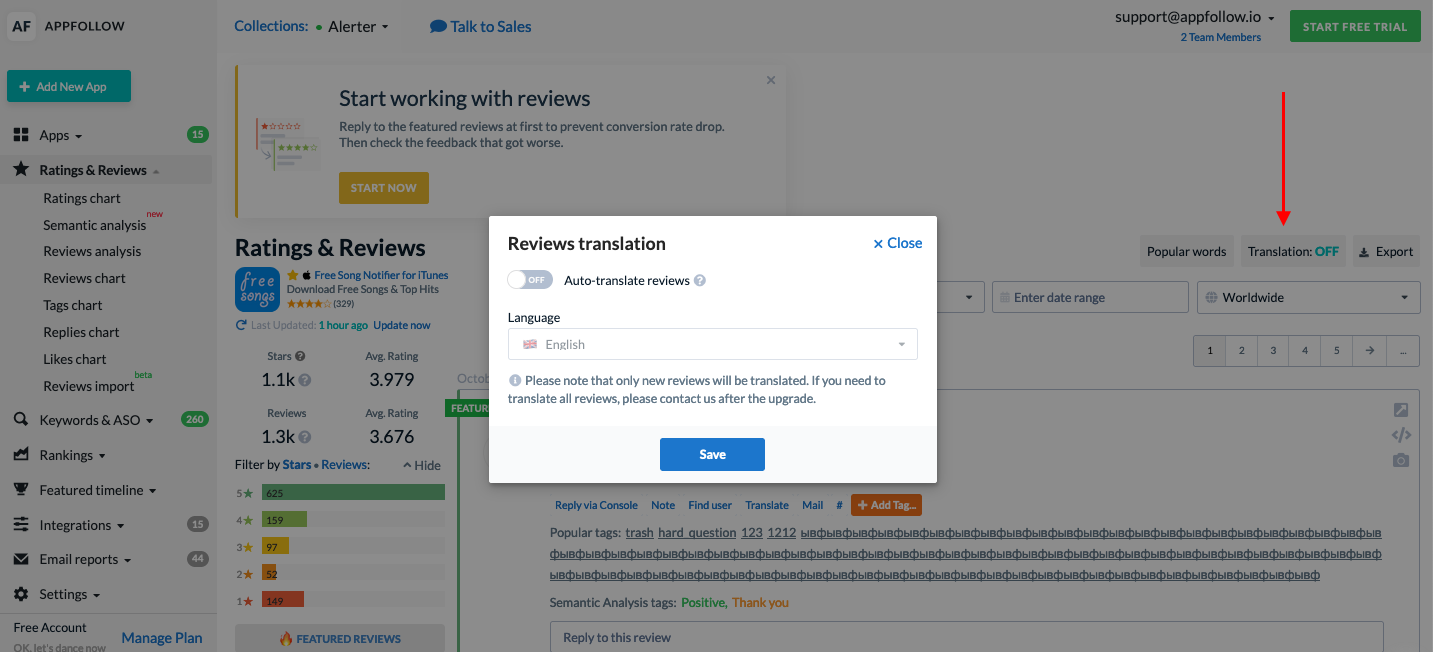 We don't translate your replies though. If you reply to reviews using AppFollow dashboard, you will need to translate them yourself.
Filters: sort out reviews
Filters help you quickly find those reviews that require instant reply, cover popular or featured feedback, or analyze your users behavior.
By default we show the newest reviews first, but you can filter them depending on your needs:
Number of stars
Users may rate your app or leave a review with rating, and we will show both stats separately: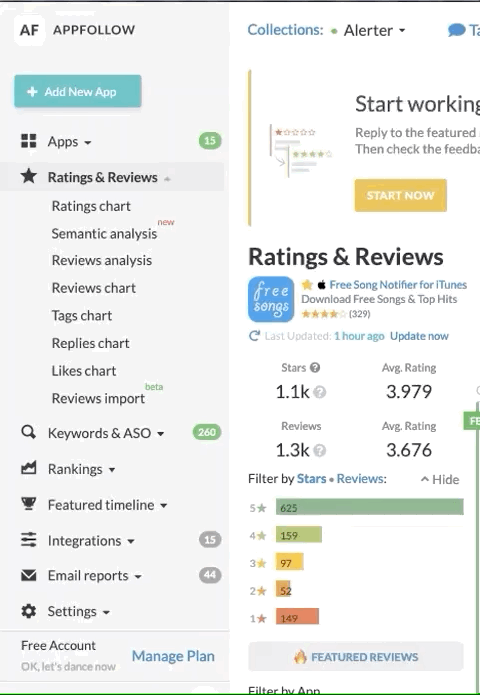 In the upper chart you see the whole number of stars with and without reviews and the average rating.
By hovering over each number of stars you will see the exact number of reviews with this rating and its percentage from the whole number of reviews. Click the star to see only reviews with this rating:
Alternatively use Filter by Rating:
Critical: 1*-2*,
3* & fewer,
4* & fewer,
Favorable: only 5*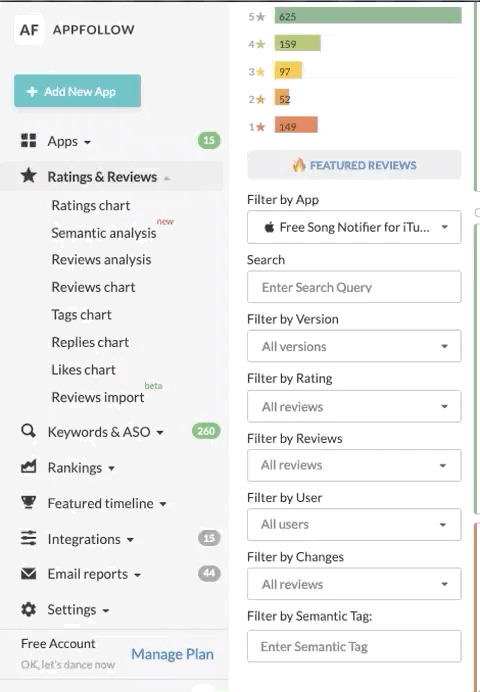 You can also choose the order of reviews:
Negative First: 1*-2*,
Positive First: 4*-5*:
Popularity
Filter only Featured reviews to cover the feedback from the main app page. These reviews have the most impact on your app conversion rate and installs.
You will have different featured reviews in each country. Don't forget to check them globally.
Choose the order of popular reviews:
Liked First: reviews that others liked the most;
Disliked First: reviews that others disliked the most:
Mark your app as Favorite to be able to see Popular Words.
Geography
If you track apps Worldwide, you will have a drop-down menu on the left called Filter by Country: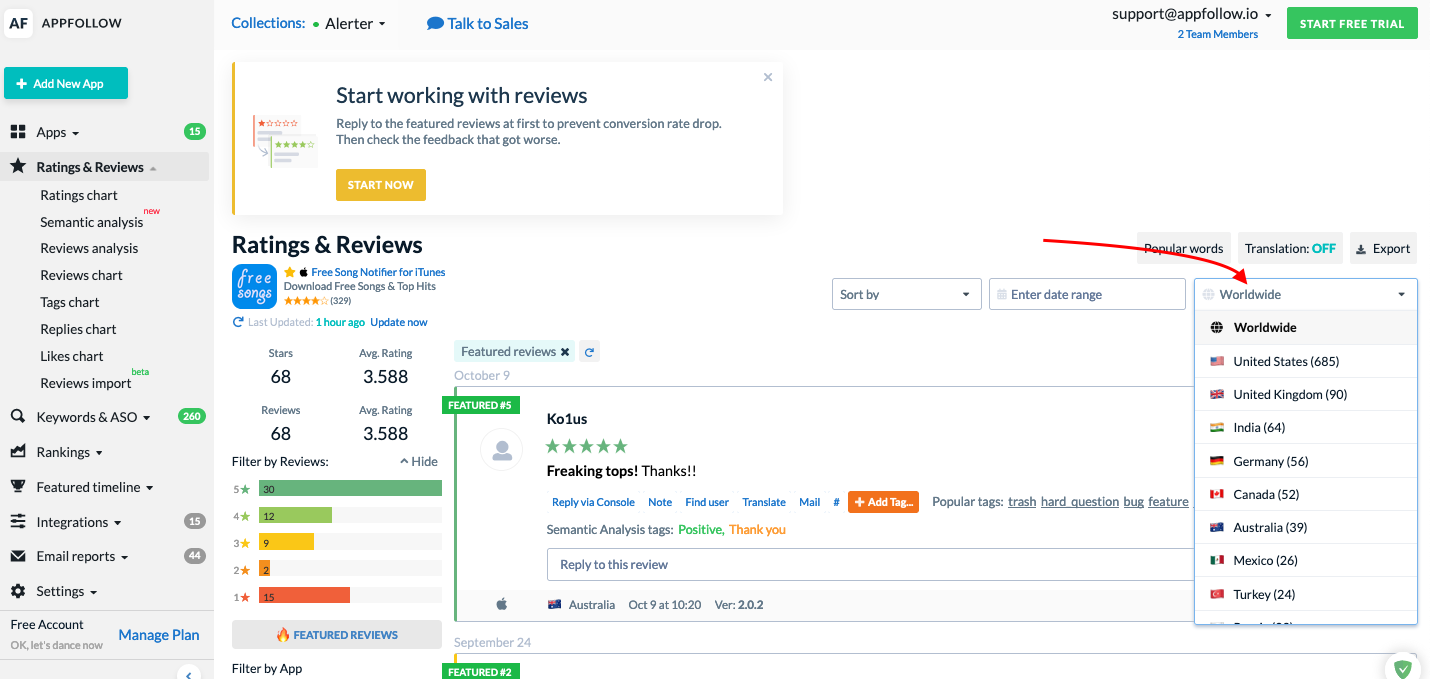 If you track particular countries, you will see their flags right near a first review from the list. Click the flag icon to see all reviews from this country: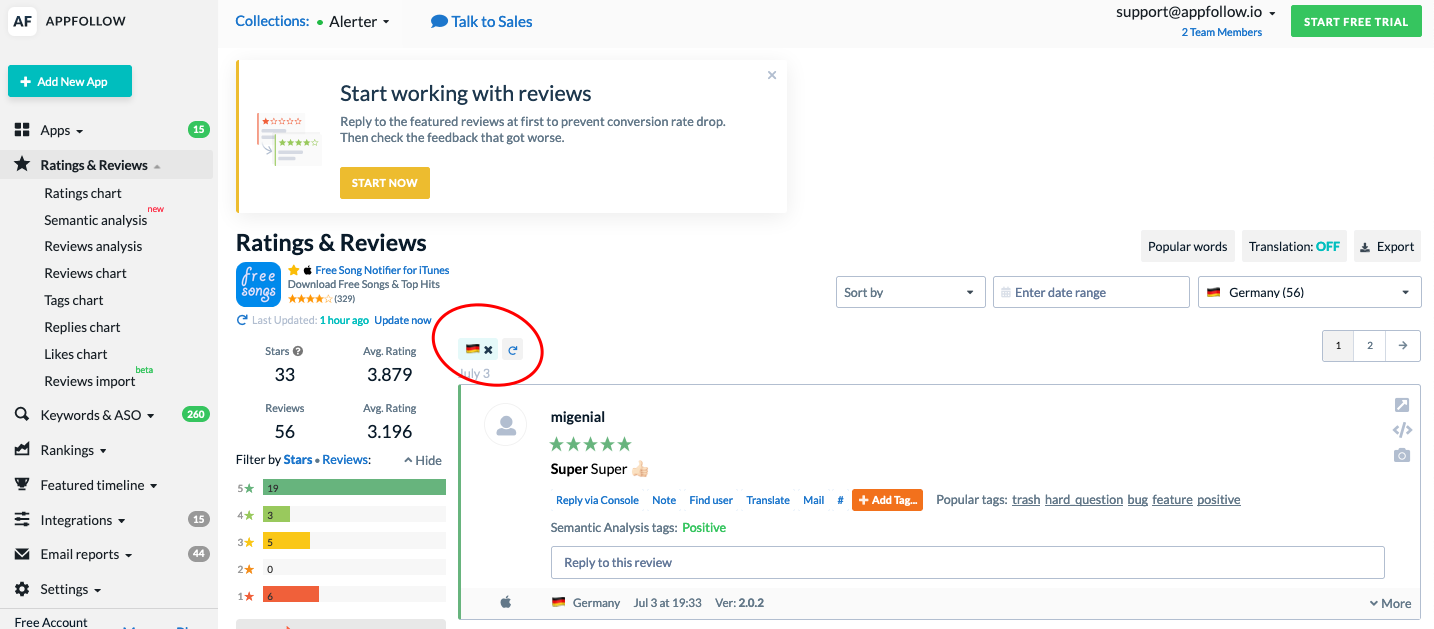 Other filters
The other filters are displayed near the left menu right after Popular Words: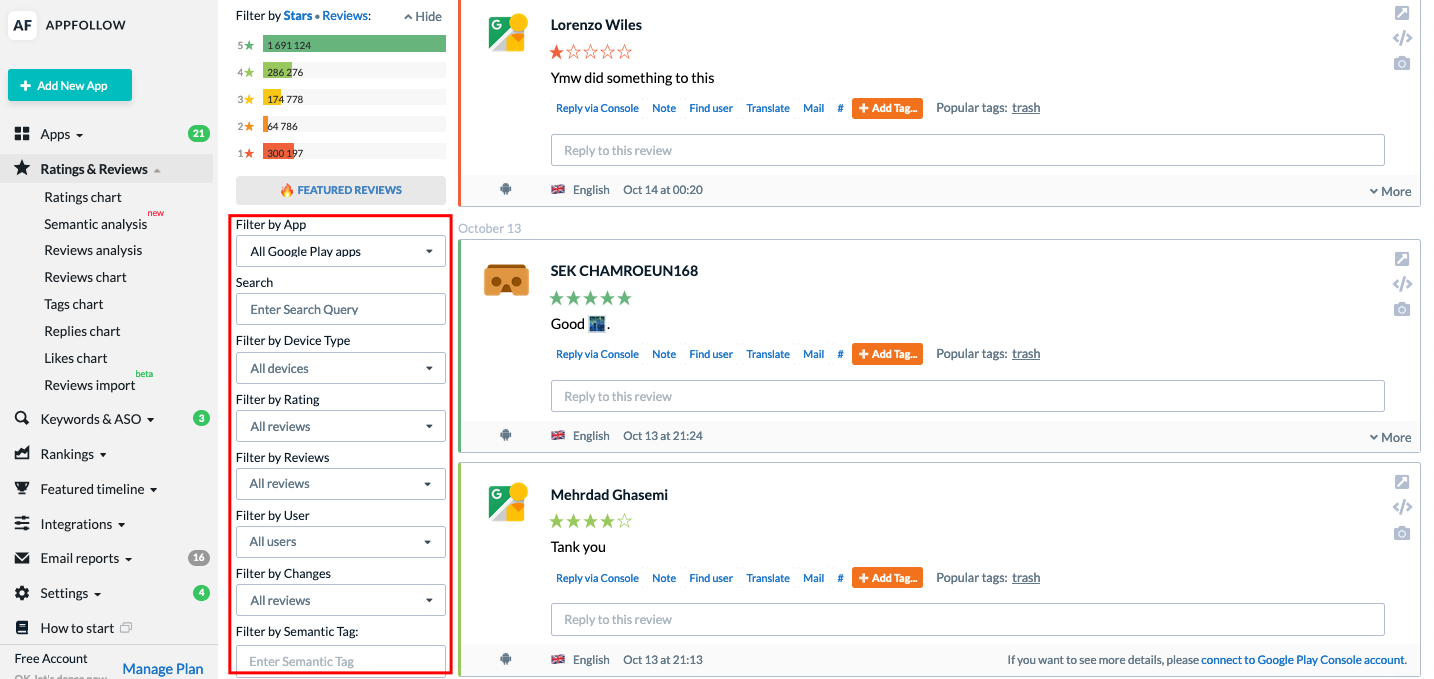 Filter by App shows reviews of:
Each app in the collection;
All apps from a particular app store.
Filter by Date shows reviews:
for a particular day;
for a selected time period: a week, a month, etc
Search lets you filter reviews by tags, note, and author.
Filter by Version shows reviews left about a particular app version.
You can only use this filter for your Favorite apps.
Filter by Status shows:
Open — reviews without a reply;
Reopened — reviews with a reply that were opened to update or edit a reply;
Closed — reviews with a reply;
Open & Reopened — all reviews that required an answer.
Filter by Reviews shows:
With replies — reviews that have already been answered;
Without replies — reviews that don't have an answer;
With updates — reviews that have been changed by a user (no matter answered or not);
Without updates — reviews without any changes;
Updated since reply — reviews that have been changed by a user after a developer's reply;
With tags — reviews marked with tags;
Without tags — reviews that haven't been marked yet;
Deleted — reviews deleted by a user or an app store administration (spam or offensive reviews);
Beta feedback — reviews from Android beta-users. To get these reviews you need to setup Beta testing option in your Google Play Console.
Filter by User lets you monitor a particular team member replies.
Filter by Changes shows reviews:
Become better — when a user changed a review with a higher rating;
Became worse — when a user changed a review with a lower rating;
Without changes — reviews without any changes.
Filter by Code Version shows reviews left about a particular code version.
Filter by Device Type separates reviews left from phone and tablet.
Simultaneously you can apply as many filters as you need.
To reply to app store reviews you need to add integration with App Store Connect and Google Play Console first.
Once all is set, the reply box will become active. Click on it, and type your answer there. Click "Publish reply" button to send your answer to the app store.
You can also edit your reply afterwards, for example, when you fixed the bug that your users were complaining about, and you want to notify them:
Find the review;
Click "Edit" button;
Delete your previous reply and type a new one;
Click "Publish".
Other features
Reply faster: reply templates
Improve the response time and ease the processing of typical reviews by setting reply templates. This article provides the details on the templates settings.
Tags: sort out reviews
Tags allow you to quickly separate reviews and gather reviews with similar topic, for instance, to update your reply after you've fixed a bug. You can add tags manually when you need to and also add a rule to add tags automatically. To learn more about tags, please check out this article.
Report a concern in App Store (beta)
It is possible to report an offensive or spam review for the iOS app directly from the AppFollow dashboard. To learn more about this feature, please check out this article.
Need more?
Learn which help desk services we support and make your support team reply faster
Find out how to start working with app store reviews in the first place
Hit the chat button if you need our help — we're here!