Semantic Analysis
Overview
The Semantic Analysis feature allows you to analyze app reviews and quickly detect issues that lead to user dissatisfaction, lower app ratings, and uninstalls. The Semantic Analysis toolkit is designed to provide a helicopter view of customer experience and detect the app's potential shortcomings before they become critical. Machine-learning algorithms at the core of the feature analyze the meaning of all reviews, no matter how many of them an app received or what ratings they have.
The Semantic Analysis feature consists of 4 tools:
Positive vs. Negative — break down reviews according to their emotional tone.
Sentiment Timeline — monitor overall changes in user sentiment over the selected timeframe.
Topics & Bugs — gives you a quick overview of the current and potential issues your users are writing about.
Sentiment Score — shows the overall user satisfaction level.
Wordcloud — visualizes the most frequent words used in reviews.
To find the Semantic Analysis toolkit, open the left-hand navigation panel, and select "Semantic Analysis".
To start tracking an app's sentiment, add it to your Favorite Apps. The data will be gathered within the next 24 hours.
---
Positive vs. Negative
This chart shows users' attitudes toward the app:
Positive
Negative
Neutral
Mixed feelings
This tool helps you understand the emotional tone of reviews, without taking their rating into consideration. If a user gives an app a 1-star rating and then asks a question, the sentiment isn't counted as negative.
Hover your cursor over the column to see how many reviews there are in each category, as well as the average rating of these reviews.
---
Sentiment Timeline
The chart shows you how the overall sentiment and mood of reviews has changed during the selected timeframe.
---
Topics & Bugs
These two pie charts group reviews in accordance with their topics, concerns, and complaints. Click each of the colored sections to navigate to the Reply to Reviews page and see a list of reviews filtered by the selected semantic tag.
Learn more about all of the available tags in our article on Semantic Tags.
---
Sentiment Score
The sentiment score meter allows you to identify your apps' overall user satisfaction score. The percentage is calculcated based on the correlation between positive and negative reviews. The higher the score, the more positive the user sentiment is.
---
Wordcloud
The Wordcloud gives you a quick glimpse of the most frequently used words of your reviews. This allows gives you an idea about the ways users describe their experience with your app.
Wordcloud supports 18 languages (all languages available for Semantic Analysis, except for Arabic and Bengali).
Wordcloud can be used to create a baseline for Auto-replies and Auto-tags, or as a Reply to Reviews filter.
---
Set Up Semantic Analysis
Semantic Analysis is a paid add-on. If you see a splash screen, you can request a trial directly from the page. Feel free to send a message to your account manager or to help@appfollow.io to learn more.
To start tracking an app's sentiment, add it to your Favorite Apps. The data will be gathered within the next 24 hours.
Languages
Semantic Analysis supports 20 languages. There are 3 language groups that are available as add-ons to your plan:
English and Russian.
Portuguese, German, Italian, Spanish, French, Dutch.
Arabic, Indian, Chinese, Japanese, Korean, Bengali, Hindi, Thai, Vietnamese, Turkish, Urdu, and Persian.
To activate a language group, click on the required language in the menu and select "Enroll in beta". Feel free to reach out to your account manager or send a message to help@appfollow.io to get more info.
The Wordcloud tool is activated separately upon request.
Filtering
To make sure you're looking at the exact data you need, adjust the filters on the Semantic Analysis page:
Versions: analyze different app versions separately.
Date: by default, the data is displayed for the previous 30 days. Click on the dates to choose the timeframe you need.
Languages: evaluate customer sentiments by language.
---
Report an Incorrect Semantic Tag
If you notice that an incorrect Semantic Tag was assigned to a review, it's possible to report the Semantic Tag as incorrect.
Click on the tag on the Review card, and select "Report as incorrect". The tag will be removed from the review, and you'll see only relevant reviews when you apply a filter for this Semantic Tag.
Whenever you report an incorrect tag, we use this information to improve and update our Semantics model to make it more accurate.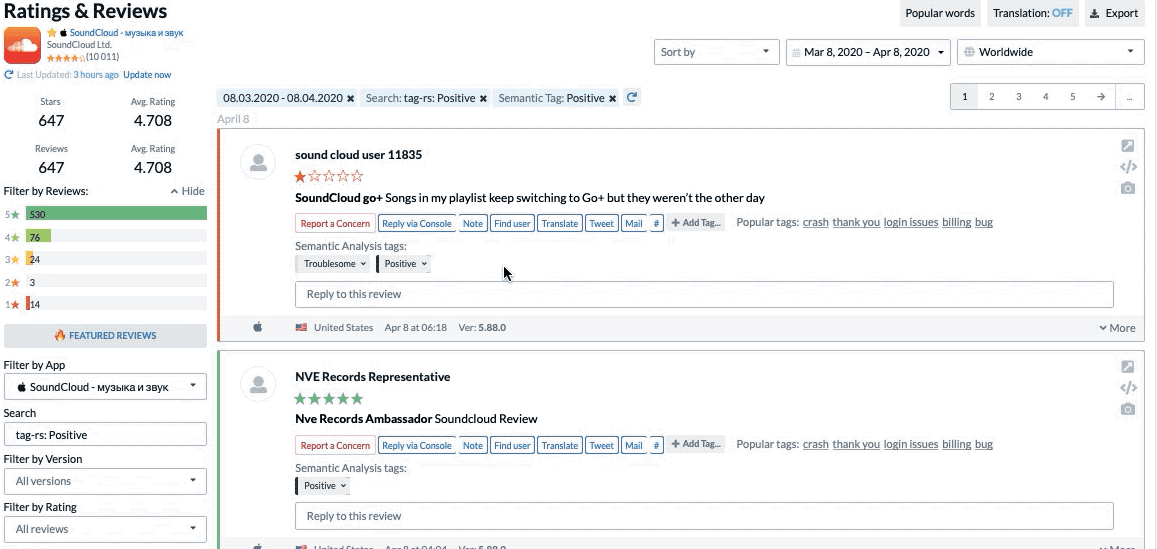 ---
Export Reviews With Semantic Tags
Use the API to export data about Semantic Tags. With the help of API method 45. Reviews Semantic Tags, you can export all reviews that contain Semantic Tags via our API. This allows you to get semantic insights and build external reports outside of AppFollow.
Contact your account manager or AppFollow Support to get access to the Reviews Semantic Tags API method.
---
Need help? Hit the chat button — we are all ears!