ASO Dashboard for app performance overview
ASO dashboard is our new feature that provides a broad overview of your app success.
Use ASO dashboard:
to analyze how your ASO efforts and advertising campaign affect conversion
to check downloads and positions of your app in search results by keywords
to get a broad overview of your app success
ASO Dashboard
On the top of the page, you can see an Overview of your app performance in organic search.

Keyword Visibility Score shows the success of ASO efforts. The higher the score, the more visible your app is in organic search results. There is no maximum visibility score. That's why we recommend adding other apps into your account and comparing your app's score with those of your competitors. This way you can easily perform competitors analysis without diving into details.
Total Indexed Keywords indicates the number of keywords that will show your app in search results.
Keyword Movements gives an estimate of any New keywords that your app is indexed by, keywords where your app position had Improved, and the keywords where your app has Decreased its positions in organic search results.
Organic Search Downloads displays the number of app downloads from Organic Search only. Make sure you have linked your developer console account. Otherwise, this section will not be available.
3 cards below break down keywords into:
Favorite keywords – those you have marked with a star on the Keywords&ASO page
Top Gainers – keywords with the biggest ranking improvement of an app, e.g. if your app jumps up from the 30th to the first position for a certain keyword in search results, we will show it in this section
Top Losers – keywords with the biggest ranking decline of an app. This information will be shown for the last 30 days by default. To choose another time span, please change the dates using the filter on the top of the page.
Switch on Show my keywords button to see only those keywords that you have added on the Keywords&ASO page.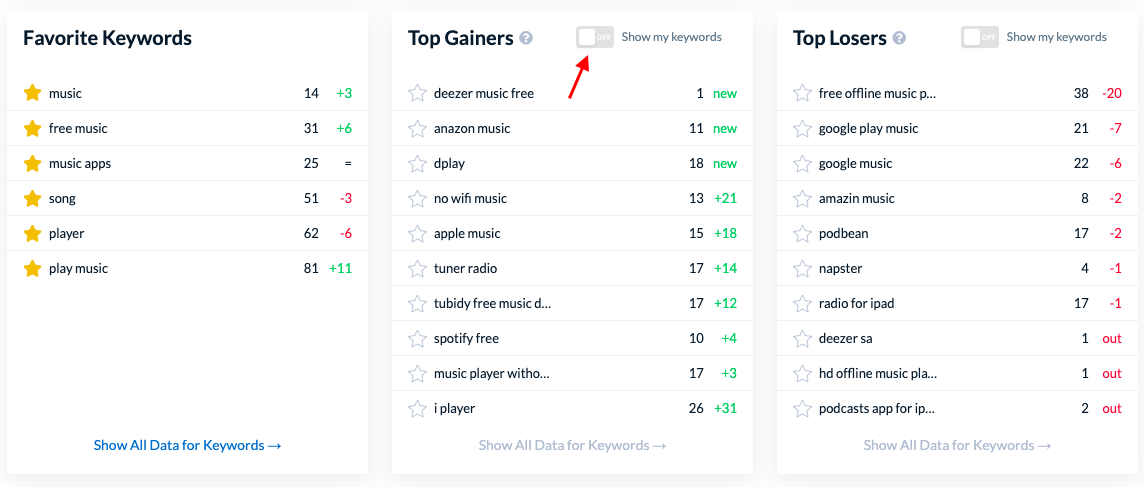 The keyword visibility chart displays the change of the visibility score over time. Red triangles mark app updates. These indicators will help you evaluate the effect of your update on app visibility.

ASO Dashboard is available on request only. If you'd like to test it, please message us in chat or send a letter to help@appfollow.io
The advantage of our Visibility Score over other services is that they provide only numbers, while our system offers historical data and an option to compare your app with its competitors as well. You have to make a lot of clicks to compare your visibility, save this info somewhere to compare it later with a new result. Everything is available on this page along with history data.
Keyword Distribution Chart
Keyword Distribution Chart shows how new keywords have affected your views and installs.

You can see the total number of keywords the app is ranking for in the store, with a breakdown by top positions. This graph shows how your app rank is changing over time.
Each column shows a particular day and is divided by tops with the number of keywords in each top - Top 1, Top 5 (i.e. from 2nd to 5th position) and so on.
To see the number of Impressions, App Units, Page Views and Conversion rates on the Chart you need to connect App Store and / or Google Play account.
Study the number of keywords in Top-1, Top-5 - how they affect installs and views of your app. If you can see just a few keywords in Top-1 and Top-5, but a lot in Top-10 and below, then you probably need to improve keyword positions of your app, which requires manual work and analysis. Very few people go below Top-5 or Top-10 when searching for an app.
ASO analytics
ASO analytics is our low-level analysis tool for ASO experts.

It shows installs / views / Impressions with a breakdown by traffic channels. You can assess the success of graphical or text optimization in one place by tracking traffic changes. You can understand if your update has affected conversion, or spot any changes after being featured in one or several countries. This tool combines data from different consoles on one page. Also, it is possible to export information in a report.
Rankings
Rankings shows the dynamic of the app rankings by categories in the store. The data is displayed for the default country of the collection.

Keyword Positioning Map
Keyword positioning map shows the top 100 keywords for the selected app in organic search results. Each dot represents a keyword. This graph allows to compare keyword popularity agains its difficulty in order to pick the best keywords for updating your app meta data. Hover over the dots to see the information for each keyword on the map.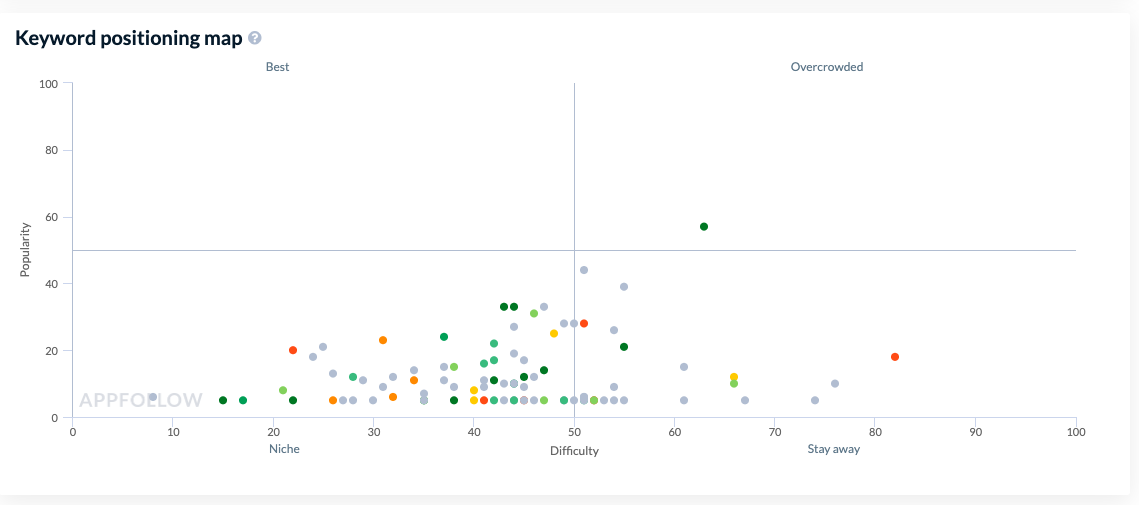 ---