Getting Started With Keywords
Keywords help visitors to find your app among millions of others in the app stores. To stand out and promote your app, choose the best keywords that work at the moment. To do so, track the keywords performance and positions in AppFollow. It will help you to detect which of them stopped working, and which ones you'd better use in the app title, descriptions, or keyword set.
Add your first app and keywords
Add an app to your Workspace.
Click "Keywords & ASO". We will automatically add relevant keywords for this app and you can start tracking its positions straight away.
Click "Add keywords" to type all keywords and phrases from your semantic core you want to track. Note, that these keywords won't be transferred to your keyword set in the store. Then click "Save".
Click Keyword ideas to get extra options for your list of keywords.
You need to add keywords for iPhone, iPad and Android in separate lists. For each country there will be different lists.
If you don't have keywords yet, use the advice below to create a keyword set.
Arrange the apps and keywords
The easiest way to track your and competitors' apps, keywords and updates is to add all of them in one Workspace. Then you will be tracking the keywords, rankings, search results in one place.
1. Create a Workspace and add the apps.
2. Mark your app as Favorite, so that you have quick access to the data: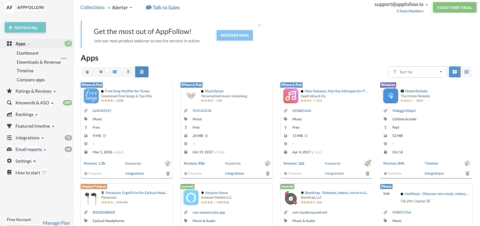 The data about favorite apps will be available in the dashboard within 2 hours.
3. Add all the keywords you want to track. Note, keywords will be applied to the whole Workspace, you will be able to see the position for every app in the Workspace.
Find the right keywords
If you want to find what your users are looking for and what keywords your competitors use, go to AppFollow Keyword research.
Click the arrow near "Keywords & ASO". In a drop-down menu choose "Keyword research"
In the search field type a search request to find what else users look for and what apps use this search request. Or you can type an app name to find which search requests are associated with it.
On the right will be suggested search requests. Click green plus to track them.
On the left will be a list of apps in the order they appear in iOS 11 and iOS 12 search results.
Click the app to see which search requests they rank for and what traffic score those requests have. Click the green plus to add to track them.
Please, note: the keywords you add apply to all apps in your Workspace. That's why it's better to keep apps from different categories and thematics in separate Workspace.
What's next?
Use Keyword research to find the best keyword match
Increase your app conversion rate
Track your keywords
Analyze ASO performance
Need help? Just hit the beacon — we're here for you.