App updates timeline
When it comes to the app performance, you need to have at hand all the recent changes made to the app to analyse, what event has influenced app results.
Here comes AppFollow timeline: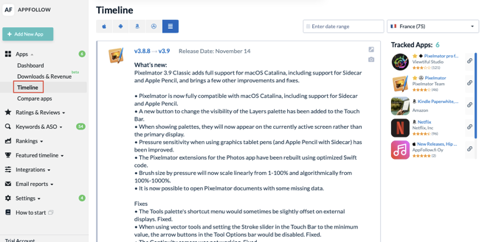 What changes can you track here? All the information that is laid down on the page of the app, i.e. app icon, version, what's new, size, in-app purchases, publisher, price, etc.
As it's shown on the pic above, there're multiple filters to narrow your search and get faster to the results:
Choose the country, for which changes took place;
Set the time period;
Pick up the app you want to track;
Select the store.
On the very top of every change, you can see the date when it was:

There's also one helpful table that could help you to access your ASO results: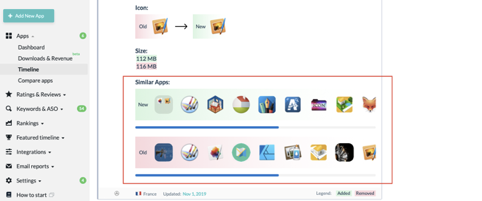 This table shows you apps, that the store recommends alongside with your app (at the bottom of your app page). So the closer recommend apps by the topic/category/theme to your app are, the better you have set up your ASO.
Have you come up with any questions? Drop us a message either in live chat or to help@appfollow.io.