Email Reports: Timeline
Report App Updates shows what has been changed in apps that you've previously added to your app collections. It's easy to see your own and competitor's apps updates. Find below the example of report: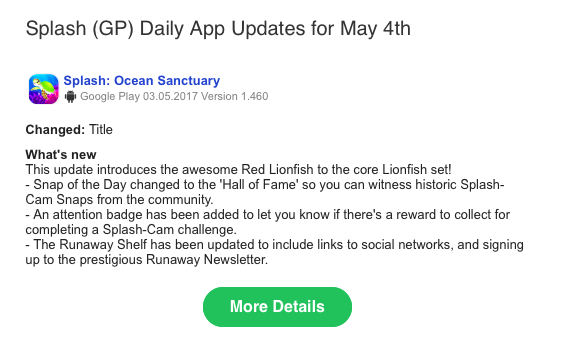 What you can usually see:
Full app name,
Platform — App Store, Google Play or Windows Store,
DD.MM.YYYY — Date when app undergone the update,
Version X.X. — Number of current app version,
Changed* — meta- data that was changed (e.g. Title, Description, Price, Screenshots, Video, Developer Name),
What's new — Developers' description of an update.
*You might not see this field if nothing but What's New was changed
Clicking More Details will redirect you to more detailed report on AppFollow. For more details check out the article about app versions (timeline).