Where to find app reviews
Table of Content
When it comes to app performance tracking, it's important to consider users' opinion. That's why AppFollow is equipped with special features that help you search, tag, filter, analyse and export user reviews. How does it work?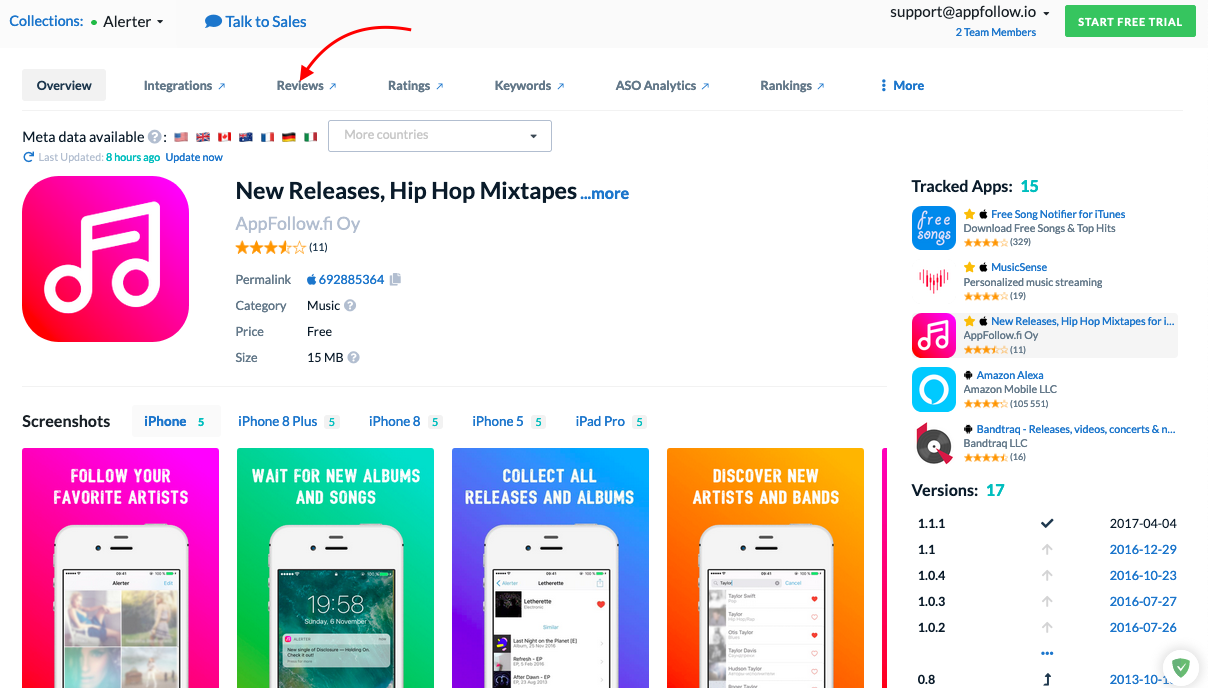 First click Reviews on the main app page:
You'll be directed to a new page with 4 important sections: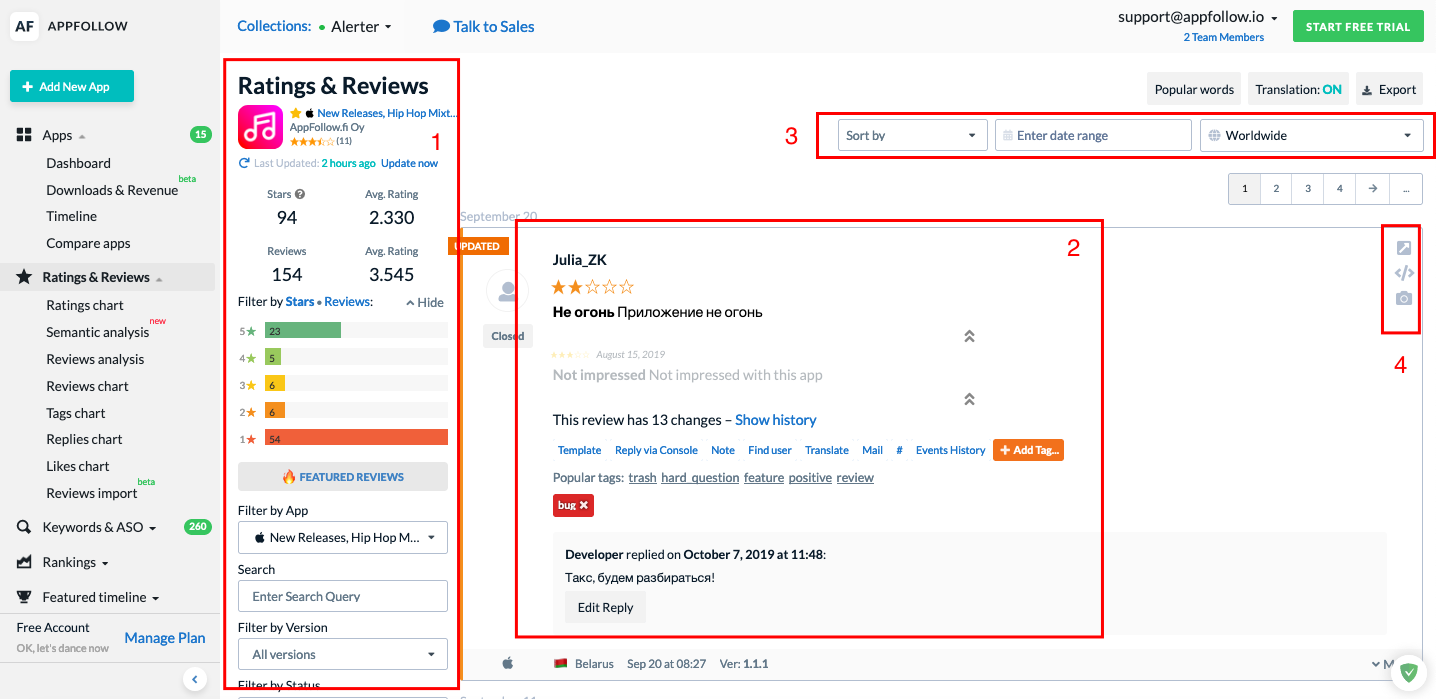 Basic Information & Filters
Basically, your app's new reviews get to Reviews page, Slack, email and help desks 4 times per day. Integrations with the stores are needed not just to post replies, but also to get reviews more frequently. App Store Connect is updated every hour; Google Play Console - every 20 min.
After you add your app, reviews may be collected up to 2 hours. If you have more that 4k reviews it may take up to 2 days.
Please note that your replies appear in the stores after moderation that takes up to 30 minutes in Google Play Console and up to 12 hours in App Store Connect.
The first thing you see on the left side of the page is app icon, app name and developer's name. There is also basic information about reviews: stars, reviews amount, ratings, etc.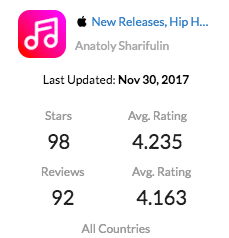 Put the cursor on the app icon to see total average rating and count of stars (how many times users rated the app):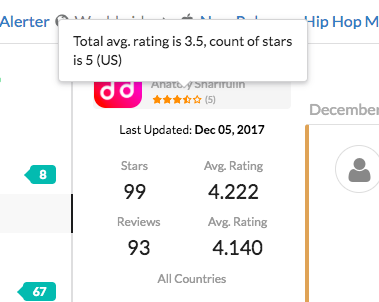 Further you find Filters.
Filter by Reviews — Сlick on each star from 1 to 5 to see reviews with particular rating: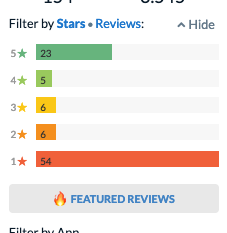 Featured Reviews* — popular reviews displayed at the top of the reviews section on a listing.

Besides you can see reviews that got the most likes or dislikes from users. To have this feature on, set-up the integrations with App Store Connect (ex-iTunes Connect) & Google Play Console. It will also give you the opportunity to see thumbs up or down: 👍🏼 and 👎🏼 next to reviews:

*There is another set of information available on AppFollow called Popular Reviews. Don't get confused.
.
Popular Words — Find out the most popular words used in reviews (by countries and versions) as well as average rating among all the reviews with selected word: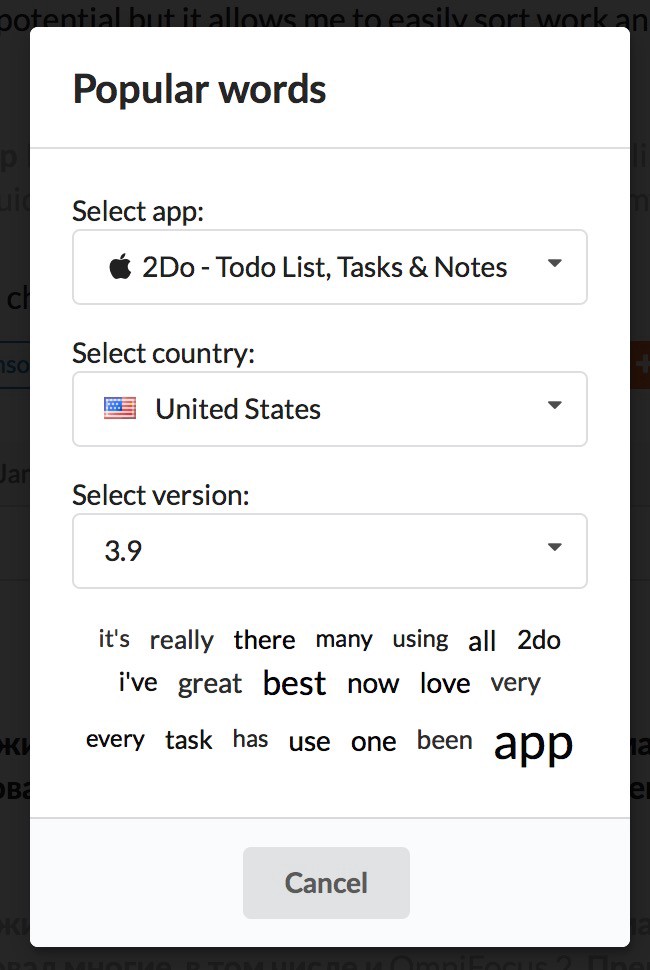 More filters
In rare cases Google Play reviews have no rating (stars) at all. We added a new '0' filter to identify those: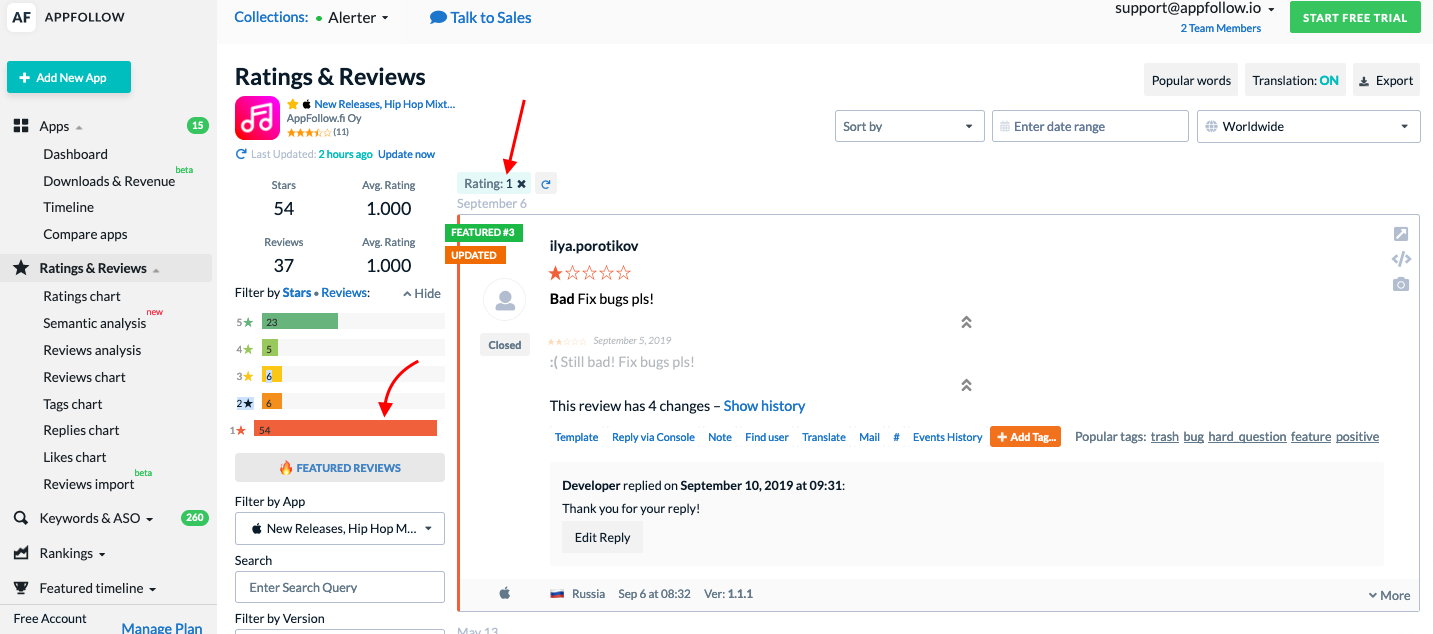 There is one more new filter on top of the page — Updated since reply. It makes easier to find reviews that got updated after developer's reply.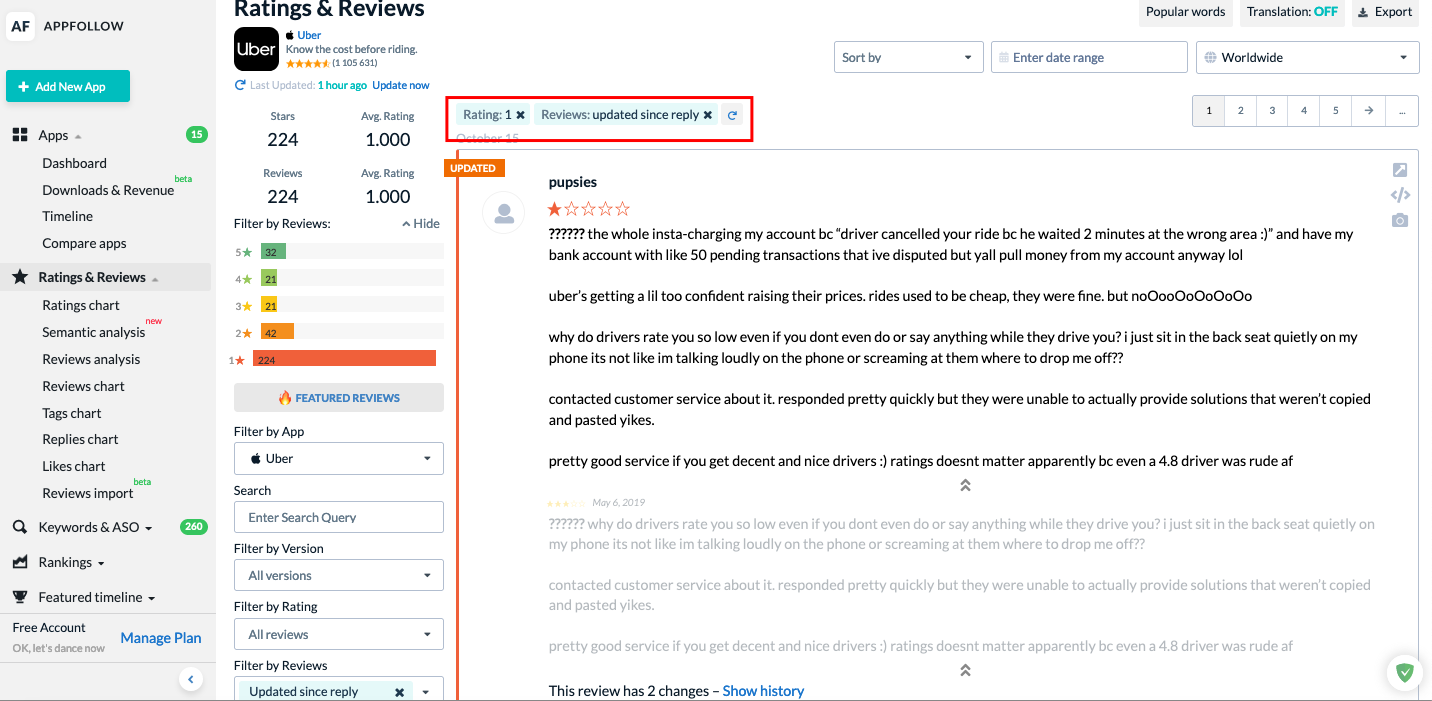 Filter by Date — Select time period.
Search — Type one or more words, tags or phrases you need to find within collected reviews.
Filter by App — Choose a particular app you want to work with. Otherwise, you'll work with the whole app collection.
Filter by Version/ Device Type* — Select version number to see related reviews.
Filter by Rating — Choose to work with Critical (1-2 stars) or Favorable (3-5 stars) reviews.
Filter by Reviews — Choose to see updated or deleted reviews with or without answers.
Filter by User — Have a look at answers of each Support Manager.
Filter by Changes — Find out how user opinion has been changing, select reviews that became better, worse or didn't change.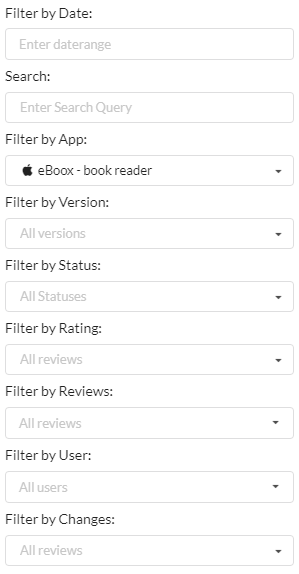 *
Translate, Sort & Export
In a Premium subscription you can choose an option of auto translation of reviews. An important option to optimize the work of your Support Team.
You can choose the language of translation. Besides, it can be turned on/off for each app individually.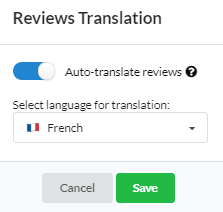 You can find more filtering features at the top right corner of the page. Dropdown list under Newest First helps you see newest, oldest, negative, positive, long or short reviews above all others.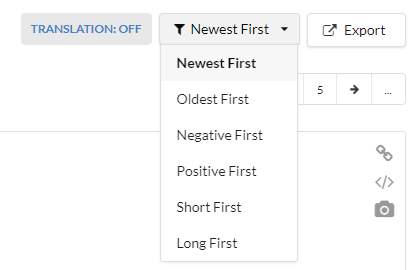 Moreover, for more convenient analysis you can Export all information available for reviews including date, country, author, rating, title, content and tags. Just click Export, choose what you'd like to get (Reviews or Summary), then choose the right format — CSV, Excel or API.
Working with Reviews
Under each review you will find several clickable buttons:
Reply via Console — reply to a comment via developer's console.
Report a concern* (for App Store) — report to App Store about irrelevant or offensive review.
Note — add a note about this review.
Find user — get more information about a user on Google Search (for App Store) or see his/ her Google+ account (for Google Play).
Translate — see translation of the selected review.
Tweet — share a review on your Twitter account.
Mail — sent a review to a developer or a support team by email.
+Add tag...** — tag review in the most convenient for your support team way (e.g. 'urgent', 'interface', 'error', etc.).
*This button appears only for critical reviews (1-2 stars).
** You can manage tags by creating the list of the most used ones that can be further selected with one click: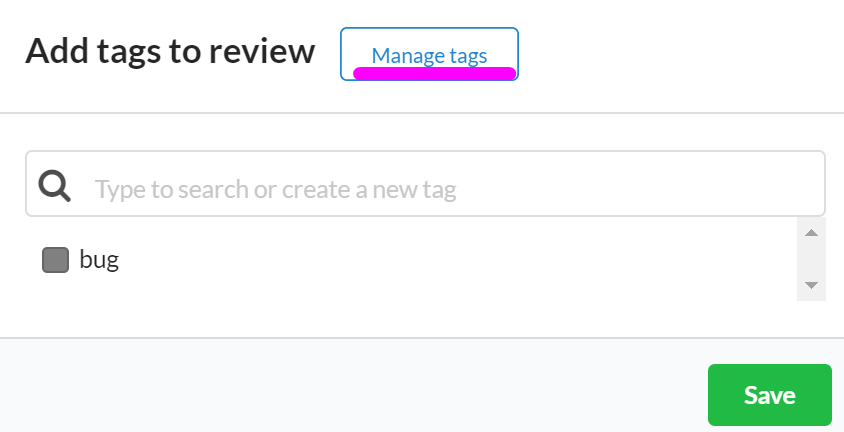 If you previously replied to the review, you can Edit your reply directly from AppFollow:

If you previously worked with the review, for example, replied to one in Google Play, you will track the History of actions.

This is how it works: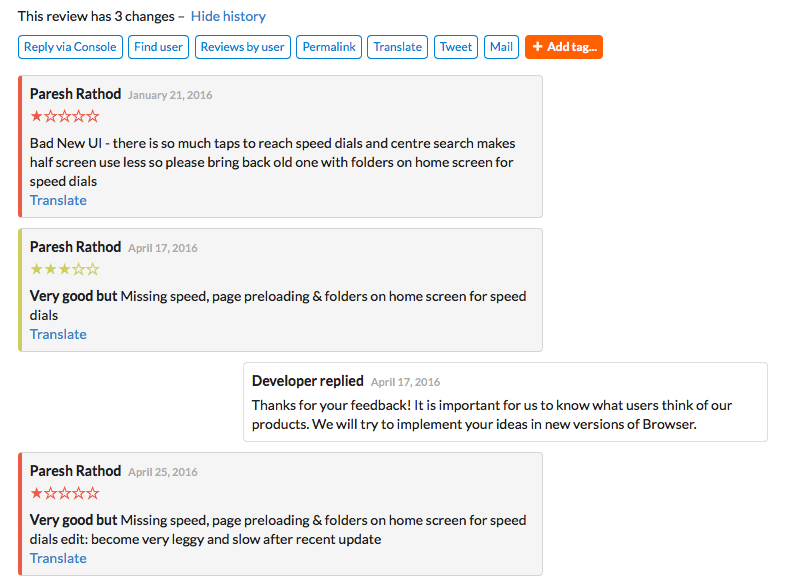 Moreover, you can see if a user updated or deleted review from the store. See if there are special tags on the left side of the review: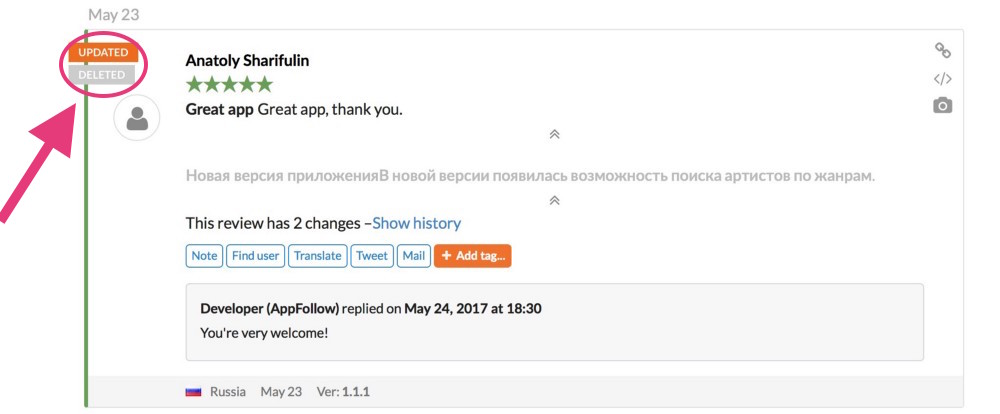 The last but not the least feature is review status*. Click on the button to change the status to:
Open — assigns automatically to all new reviews;
Closed — changes by a click or after replying to a review;
Reopened — assigns automatically when users update their reviews. Or you can reopen a closed review manually.

*This tool is available on Premium Reply-to-reviews option.
Sharing Options
On the right side of each review you can notice three icons: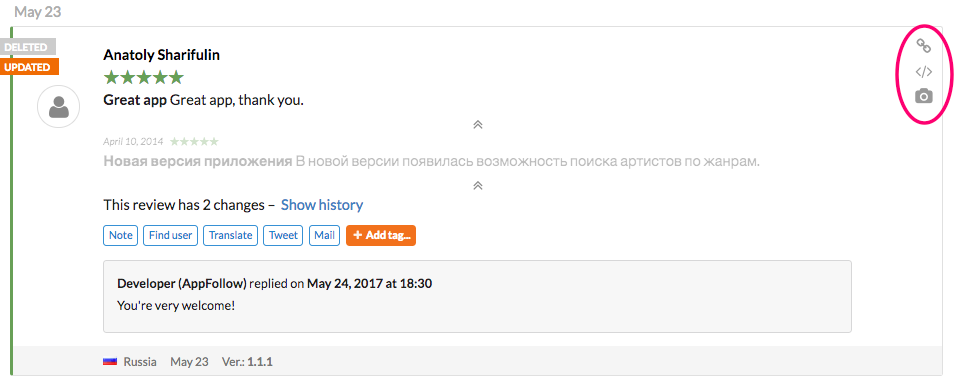 The first icon is called Permalink. Clicking it will direct you to a new page with sharing options.
The second icon allows you to Embed the review.
The camera icon allows downloading Review as image in

png

format.
Publish reviews on web-pages, social media or personal blog and let everyone know that your app is doing great!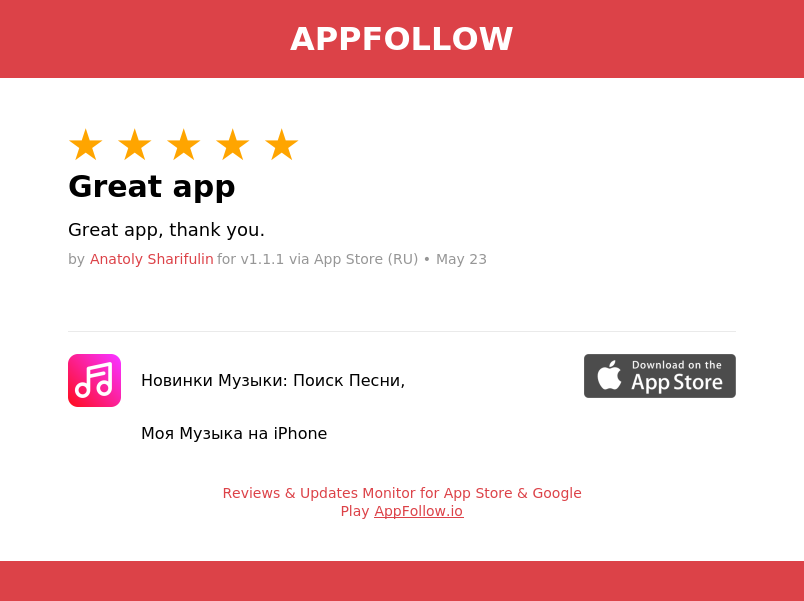 Btw, it's possible to customize reports and dashboards related to user reviews. Access data via public API and use special requests.