App collections: arrange your apps and data
To manage apps' data and access it as quickly as possible, you have App Collections. App Collection is a directory where you place apps according to certain parameters.
Examples of how you can gather your apps:
App Monitoring
Only your apps. It helps monitor only your apps activities and be informed only if something happened there.
Your app + competitors. This one helps you track the market, as you see what your competitors are up to and can compare your results with them.
iOS and Android separately. Use this if different tech teams support different platforms. Thus iOS team will only monitor iOS (or Mac) apps without extra alerts about Android, and vice versa.
ASO
Keyword thematic. Use this if you have apps with different thematics in different app categories. Keywords you use in a collection are applied to all apps in that collection. It means that you can't use keywords for both babycare and fitness apps in one collection.
Customer Support
Depending on an app language. Choose apps and only countries (ie languages) that a particular team supports. For example, divide English and Spanish speaking countries into different collections. Thus English speaking team will have app collection with the UK, the US, Canada and Australia and Spanish speaking team will have Spain, Colombia and Chile.
Depending on a help desk. If it happened that different support teams use different help desks, divide apps depending on channel integrations. Thus one collection can be integrated with Zendesk, and the other one – with HelpShift.
For game developers. Divide games into collections if you have different support teams for different games.
Service providers (many different apps for different customers)
Depending on app publisher. It helps you gather apps from one company (app publisher) in one place to monitor their performance.
Depending on a project. It works if you have different teams that work on different apps for a single customer. It will help you gather a project team and data in one place.
Add and search App Collections
In your dashboard you see the first app collection in alphabetical order.
Here's how to add a collection: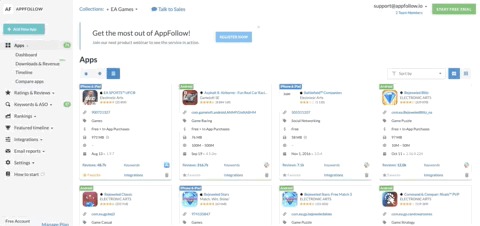 Type the name of a collection.
Choose countries.
Select what email reports you want to get: updates, reviews, ranks, keywords.
Mark if you want to get daily or weekly reports as well.
After you're done with the collection, add your first app.
How to navigate collections: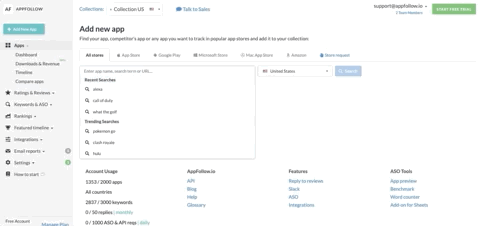 Here you'll see the number of apps, countries, keywords, integrations and reports in the collection.
I need collections for two or more cases from above
You can add one app into different collections as many times, as you need. Say you have a music player for iOS and Android. You can separate both platforms into different collections (1, 2), then separate languages for your support: English, French, German, Chinese (3, 4, 5, 6) and create one more collection to monitor keywords and competitors (7). Thus, 7 collections with the same apps for different teams.
I need to shift an app from one collection to another
You can only delete an app from one collection and add it to a new one. Or keep the app in both collections.
Need help? Just hit the beacon – we're here for you!